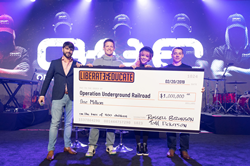 Thanks to the ClickFunnels community, we are able to protect and rescue our most innocent children.
BOISE, Idaho (PRWEB) April 17, 2019
As part of its annual business conference, Funnel Hacking Live, ClickFunnels raised more than $1 million for Operation Underground Railroad (O.U.R.) to combat modern day slavery and increase awareness about human trafficking.
This is the second year the ClickFunnels community has raised money to support O.U.R at its annual conference, Funnel Hacking Live, where attendees also received a special preview screening of O.U.R's documentary, Operation Toussaint.
"At ClickFunnels, we focus on the impact we can make in our businesses, our families, our communities, and throughout the world," says Russell Brunson, CEO and co-founder of ClickFunnels. "We're proud to support the impactful work the men and women at Operation Underground Railroad are doing to save children in the deepest, darkest corners of the world."
O.U.R. has rescued more than 2,078 victims and assisted in the arrests of more than 1,173 traffickers around the world. The organization estimates that one mission can cost anywhere from $50,000-$70,000 and can save up to 50 children.
"Thanks to the ClickFunnels community, we are able to protect and rescue our most innocent children," says Tim Ballard, CEO and founder of Operation Underground Railroad. "The donation will help further support the cause of eradicating child slavery here at home and around the globe. For that, we are so grateful."
To learn how you can help end modern day slavery and find courses on recognizing signs of human trafficking, visit ourrescue.org.
For more information on ClickFunnels, visit clickfunnels.com.
ABOUT CLICKFUNNELS:
ClickFunnels' online sales and marketing software is a simple-to-use, all-in-one marketing solution for entrepreneurs and business owners who want to market their services and products online. ClickFunnels is one of the world's fastest-growing, non-VC-backed company. Since its inception in September 2014, the company has generated more than $250 million in sales and helped over 81,000 everyday people become successful entrepreneurs and marketing masterminds through its software, resources, and trainings. ClickFunnels ranked #76 on the prestigious Inc. 500 list in 2018. For more information, visit clickfunnels.com.