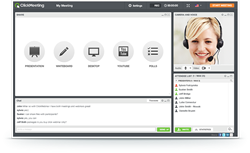 Our latest update includes an elegant solution that actually increases engagement.
Wilmington, Delaware (PRWEB) February 14, 2014
When an online meeting is in progress, the pressure is on. Attendees grow impatient when presenters have to tinker with layout controls. ClickMeeting solves this problem with an intuitive new tool that reduces complex changes to a click of the mouse. The platform also introduces a clean new "flat" look that's more in keeping with current design standards on the Web.
"Our user community loves using our flexible modular pods to control the attendee experience," said ClickMeeting Founder and CEO Simon Grabowski. "But they're reluctant to make changes during a meeting for fear of distracting the audience. Our latest update includes an elegant solution that actually increases engagement."
The 4-pod layout includes: camera and voice feed; list of attendees and presenters; presentation area; and chat box. Any pod can be moved, re-sized, enlarged to fill the entire window, or temporarily removed. The new Settings link gives organizers one-click control, even while the meeting is in progress.
NEW SETTINGS
Organizers can instantly arrange pods in a configuration that supports meeting goals. For example: during the main presentation, the chat box and attendee list could be removed to eliminate distractions. With the new Settings box, the organizer simply clicks a labeled icon to switch to another standard layout.
Optionally, the organizer can set up the pods and save it as a custom layout. During any meeting, the custom layout will be available, alongside standard layouts. To create a production-quality look and feel, the organizer can set up multiple layouts in advance, each designed for a particular segment.
In addition, the Settings link lets the organizer customize the meeting room with a registration form, phone gateway, video autostart, moderated chat, and new-attendee alerts — all available with a click.
And if meeting attendance is larger than expected, the organizer can expand to accommodate up to 1,000 participants and reserve more file space for recording meetings — all while the meeting is in progress.
Lastly, an Info screen lets organizers send automatic emails containing login instructions, contact details, and dial-in access data, including phone number, PIN code and meeting ID. The organizer can send invitations and information directly from the meeting room, choosing recipients from their contacts database or from Facebook, Twitter, LinkedIn and Google Plus.
"Thanks to the new Settings screen, the audience won't get sidetracked when presenters handle routine tasks during meetings," said Simon Grabowski. "That's a real confidence-booster for presenters."
GETTING STARTED
The ClickMeeting videoconferencing platform includes all the most popular capabilities of expensive webinar platforms — and more — at a low monthly cost that's affordable for small businesses, professional firms, and solo entrepreneurs.
Service packages start as low as $22.50 per month for annual payment plans and can be upgraded to a larger service package without software changes or data migration. All service plans include unlimited meetings and the complete portfolio of features. Follow link to company website for: ClickMeeting 30-Day Free Trial, No Credit Card Required.
ABOUT CLICKMEETING
In 2013 ClickMeeting was awarded the Stevie Award in the category "Best New Software Version" in an international competition for software development. The same year, the platform won a Tabby Award in the Communications category. The Tabby Award honors innovations in tablet apps developed for business and enterprises.
ClickMeeting was developed by parent company Implix, a leading provider of practical, cost-effective software solutions for small business. With more than 500,000 users, ClickMeeting uses Cloud technology to facilitate face-to-face online collaboration with participants worldwide. For more information, please visit http://www.clickmeeting.com/.
###