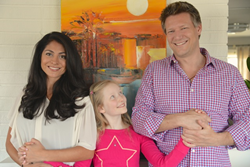 (PRWEB) March 28, 2014
Clicks Charms co-founders Andrea Correa and Drew Arentowicz were originally inspired to create the concept of cute and collectable magnetic charms because of Andrew's nine year old daughter, Lucja. She loved charms but she also quickly lost interest in any new accessories, and would, in short time, always ask for a new ring, bracelet or necklace. Drew and Andrea decided to marry, magnetically, the idea of cute charms with a line of jewelry, and so Clicks Charms was born!
Excited by her new charms, Lucja took the product to school to show, and eventually sell, to her friends, which resulted in the development of the ultimate vision of Clicks Charms and its unique sales platform. It turns out she not only loved to wear Clicks Charms but she also loved to sell them to her friends. "We realized this was a real learning experience for her!" says Drew. "She would come home after school and talk excitedly about business concepts like pricing, sales strategy, supply and demand, and relationship-building without even really realizing it. She was passionately learning about one of the most important pillars of business…selling! And she loved that we let her keep the profits."
After this experience Drew and Andrea expanded the idea to create the Clicks Kidpreneur component of Clicks Charms – a "business-in-a-box" for entrepreneurial kids to start their own businesses selling Clicks Charms with support and tutorials from the founders. "We're challenging lemonade stands and Girl Scouts across the country," Drew chuckles. At Clicks Kidpreneurs, kids and tweens learn about business in a low-pressure, super-fun environment with lots of support and encouragement to "ultimately give girls the confidence and skills needed for success in childhood and adulthood," says Andrea.
As big proponents of responsible citizenry, the co-founders have also incorporated a philanthropic twist in which a portion of the Kidpreneurs sales will be donated to a charity of their choice. Giving back, they say, is an important part of their business model.
The company is in its infancy and the founders are raising capital via Kickstarter to complete their first production run and give their company startup momentum. Those who would like to support this effort, pre-order a Clicks Charms Starter Set, or Clicks Charms Party Box for Kidpreneurs can do so at http://kck.st/1lZ1Evu via http://www.clickscharms.com.
The video pitch on the site highlights the "fun factor" and mix and match possibilities of the magnetic charms (hearts, gems, stars, animals, bowties, sports, and flowers) and gives the audience a feel for this creative and ambitious little family. Pledge levels on the site vary and buyers can get a Clicks Charm and necklace or ring including shipping for as little as $15. Those who pledge $120 or more are sent a Party Box to start their business as a Clicks Kidpreneur.
Prototypes of the charms have successfully sold in the area and the project is ready for full production. All that's needed is $20,000 of start-up capital.
"We're excited to create the next big thing in kid fashion and kidpreneuriship," says Arentowicz. "Clicks Charms is a toy, an accessory, and a potential kid business all in one."
For further information, visit the Kickstarter page at: http://www.kickstarter.com/projects/clickscharms/clicks-charms-irresistibly-fun-magnetic-kids-jewel or the Clicks Charms web page: http://www.clickscharms.com.
Correa can be reached directly at andrea(at)clickscharms(dot)com.