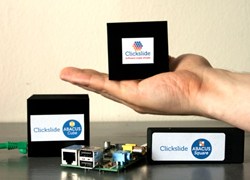 Software made simple.
Silicon Island, NY (PRWEB) August 12, 2013
Clickslide launched its Kickstarter project at http://www.kickstarter.com/projects/clickslide/abacus-microservers-create-and-host-apps-on-this/ a solution for the Internet of Things. Clickslide was founded by CEO Gabriel Ortiz and CTO Aaron Franco. Veterans of the IT, automation and app development worlds, both Gabriel and Aaron wanted to make apps creation simple and affordable. They believe that software development should be accessible and anyone should be able to try new software ideas without any computer programming skills.
Clickslide has developed a patent pending operating system called Abacus OS in which APIs are integrated and apps are developed using basic web forms. Clickslide's aim is to make software creation accessible to more people: "Software made simple."
The Clickslide team has integrated the Abacus OS into a series of microservers that eliminate the cost of expensive cloud services in the early stages of app development. This allows developers to own and control their data, save on cloud costs, and build Internet of Things solutions without complicated code or libraries.
Clickslide is looking for companies that want to have their APIs integrated into Clickslide's Abacus OS software by a Clickslide Engineer. Clickslide is also interested to know what kind of app page types API partners would like to see in further updates of Abacus OS. Their next range of pages could be an original idea or a combination of existing page types.
For more information on Clickslide, visit http://www.clickslide.co. Interested in becoming an API partner? Contact Mary Pagano, SVP Partnerships/Strategy at mary.pagano(at)clickslide(dot)co