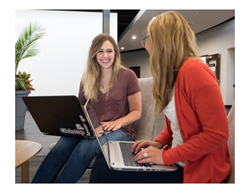 What makes Clickstop such an unusual company is the fact that we are coached and encouraged in ways that will make us successful in every aspect of life, not just professionally.
URBANA, Iowa (PRWEB) September 06, 2018
Clickstop founder and CEO, Tim Guenther has made the message clear, "We're building a business that people care about." He isn't lying.
In 2013, the Corridor Business Journal (CBJ) unveiled a new way to recognize businesses for their culture. Throughout the Corridor, companies of all sizes compete for the prize of "Coolest Place to Work." Winners are recognized within small (1-20 employees), medium (21-99 employees) and large - where Clickstop competes - (100 or more employees) businesses. The crown jewel comes with the unveiling of the overall winner who can officially declare that they are the "Coolest Place to Work."
The consistency with which Clickstop has fared is unmatched. Clickstop has made the list each year, and for the second time, the honor of "Coolest Place to Work" is theirs. The accolades coincide with an impressive rate of growth which has landed them on CBJ's fastest growing companies list in 8 out of the past 10 years.
How are they doing it? Why do people seem to care so much about this place?
It seems that being honest about who you are, clearly stating your intentions, and maintaining a fervent devotion to upholding what you've declared for each is, in fact, the key to "Creating a business that people care about."
Clickstop has declared what they are here to do: To create a business that is sustainable, enjoyable and provides opportunity for those who seek it. Founded in 2005, Clickstop grows business units (or brands) of different sizes, serving multiple industries and markets by employing Business Unit Fanatics™ and supporting these individuals through shared services. In other words, you can think of Clickstop as the parent company for the brands. What started as just a few online brands in the transportation industry, has now expanded to include other categories in areas like, printing, pepper seeds, apparel, and laundry licensing. Clickstop also supports customer and employee engagement improvements in other businesses through its multi-service business partner and implementation agency known as Leverage.
They are also clear on who they are as defined by their values. Or, stated in another way, Clickstop has declared how they will work. They will work in accordance with their Core Values, measuring behavior against the Clickstop Code and creating a high level of ownership by utilizing the Founder's Formula. Each of these tools can be found on their website, http://www.clickstop.com.
Alignment with the values allows for a diverse mix of strengths and perspectives to take part in decision making at all levels. As one of the more veteran employees of Clickstop, Allen DeHeck advises employees to "Stay curious. Be an advocate for others to question processes and collaborate to find better/more efficient ways to get things done."
Matt Bruckman acknowledges that this isn't always easy. "From my corporate background, where free thoughts and ideas were not welcome or encouraged, being courageous is something that I've struggled with. I routinely remind myself to ask why and challenge the process that is already in place when I believe there's a better alternative. Growth in this area is one reason that I'm so grateful for Clickstop."
As the business grows, employees find themselves becoming a better version of themselves. Jordan Fischer acknowledges that "holding to the values while facing adversity has made me a better friend, family member and co-worker. What makes Clickstop such an unusual company is the fact that we are coached and encouraged in ways that will make us successful in every aspect of life, not just professionally."
There is a refreshing element to Clickstop's culture. Some may equate cool with the ability to connect to popular trends, producing one-of-a-kind events, or forging new territory in the world of technology and innovation. And while you may find glimpses of this present within the Clickstop experience, what makes Clickstop truly cool is not something new or flashy, rather, it's something truly timeless: they hold true to who they say they are and what they're seeking to accomplish. Well done, Clickstop. That is very cool.