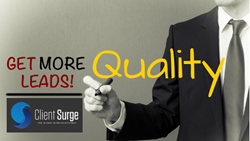 "Are you serious about growth for your business? Do you understand the importance of digital transformation and how it can be the catalyst for your company's growth? Are you ready to take the first step with our digital presence audit.
WASHINGTON, DC (PRWEB) September 26, 2018
Client Surge SEO LLC, a search engine optimization and digital marketing agency founded to help small businesses succeed in an increasing digital and crowded marketplace, is now offering Reputation Marketing and Management services to business in Washington DC.
"Many businesses struggle with their digital presence whether it be their websites or social media platforms. This is why a skilled team is needed to define and implement innovative revenue generating solutions that deliver high returns on investment," says Client Surge Founder, Salman Abideen.
The first step in driving leads is building a solid branded online presence - great website design, full and robust social profiles and great reviews. While a solid branded presence is being built, white-hat search optimization strategies are implemented so that when an ideal customer searches for products and services, the client's glowing reputation is highlighted in as many places as possible.
At the end of the day, prospects become leads because messaging, branding, and being found by prospective customers removes doubt about capabilities, builds trust, and when done correctly, is engaging. Client Surge SEO understands key digital concepts and platforms and delivers solutions that contribute to their clients' profitability.
Located in Tysons Corner, VA at the intersection of Greensborough and Solutions Dr. near Mclean Virginia, Client Surge SEO primarily works with SEO, LinkedIn Lead generation, Online Reputation Marketing (ORM), Facebook and Google Ads), across the Medical, Legal and e-commerce industries locally and across the US and internationally.
Client Surge's Founder & CEO, Salman Abideen, has been in the Lead Generation and Digital Marketing industry for over 9 years and has an extensive background in Business Development, SEO, LinkedIn Lead Generation, Application Design, Implementation and Project Management. Salman gained experience in digital marketing by delivering these skills to US and International companies over the many years in his career.
An SEO agency must have team members that work hard to make their clients online presence spectacular, whiles delivering excellent customer service and verifiable results. Most importantly, this team should assure that their client shows up in the right place locally and nationally based on an agreed upon digital strategy.
From WordPress to Shopify and even Amazon, website and product pages are managed and monitored 24 -7 by Client Surge technical teams and systems. Their SEO services utilize engaging and relevant content, Rich Snippets and clean white-hat marketing methodologies that distinguish their client's business as the market leader among competitor.
=============
Client Surge SEO
1765 Greensboro Station Pl, Suite 900
Tysons Corner, VA 22102
(571) 550 - 9260
http://www.clientsurgeseo.com