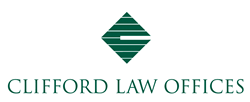 Chicago, IL (PRWEB) May 26, 2014
Managing Partner and personal injury attorney at Clifford Law Offices, Thomas K. Prindable, was featured on a Chicago Access Network Television (CAN-TV) show called Chicago Counterpoint with respected Family Law attorney, Jeffrey M. Leving. The live show allows individuals to call in during live tapings to get their legal questions answered. As a guest at Chicago Counterpoint, Prindable educated the public on legal issues and addressed questions involving personal injury, premise liability, trucking accidents, just to name a few.
One caller in particular explained how he fell on a wet floor of a supermarket and hurt his anterior cruciate ligament. Prindable discussed how a premise liability on slip-and-falls can be difficult because in order to be successful, people have to prove the defect of the surface that they were walking on and the owner of the property (or the operator or lessee) had to have had a notice of the particular defect. Prindable explained that the caller may have a cause of action and an experienced personal injury attorney would have to interview him to determine if the facts are there in order have a successful case.
The esteemed Chicago attorney also shared how he became motivated to become a personal injury attorney. He discussed how he was in the Catholic seminary for 12 years, almost becoming ordained in 1969. However, he had some "rumblings" in his heart that perhaps this path wasn't for him. So he decided to take a year off. He knew he wanted to help society and therefore decided to go to law school with a focus in personal injury to help him accomplish his passion.
"I decided to go to law school and try to help people as an attorney," Prindable shared on Chicago Counterpoint. "And as I went to school, I really enjoyed personal injury work and knew I could get right at people's lives when they were really down and out."
As a Managing Partner at Clifford Law Offices, Thomas K. Prindable is the hub for all those who initially call the law firm for help. He also administers the legal staff. The Chicago law firm consistently relies on Prindable's experience in probate matters, a critical area in tort law when the victim is deceased or disabled and requires the appointment of a guardian in a pending or anticipated lawsuit to protect the family's interests.
"Helping people is my passion. I am thankful to CAN-TV and everyone at Chicago Counterpoint for inviting me to answer legal questions for individuals in our Chicago community," says Prindable.
CAN-TV provides resources and channel time for Chicago residents and nonprofit groups. It has five local non-commercial channels that reach over one million viewers throughout Chicago. The show Chicago Counterpoint provides essential legal education to members of the community.
To watch Prindable's feature on Chicago Counterpoint, please visit: http://goo.gl/kJSXMI. To learn more about his involvement in law, please visit: http://goo.gl/8SK7yi.
About Thomas K. Prindable
Thomas K. Prindable, Managing Partner at Clifford Law Offices, is one of the steadfast forces in the office. Directing the intake of cases as well as management of the office for the last two decades, Prindable's calm, reassuring and insightful manner has been a comfort to clients over the years. Referring attorneys also can count on him for an honest assessment and fair treatment. The attorneys and staff at the firm rely on his leadership and thoughtful style, not only from his years of experience as an attorney, but from his years of studying for the priesthood. It was the month before being ordained that he decided that he had another calling, being a lawyer. Helping people is in his blood as he also has received several pro bono awards, particularly in the area of probate law.
About Clifford Law Offices
Clifford Law Offices is ranked one of the top law firms in Illinois as well as in the country in the area of complex personal injury and wrongful death cases such as medical malpractice, aviation litigation, products liability, premises liability and transportation litigation. It also has developed a reputation in qui tam litigation or whistleblower cases and handles class action matters as well as commercial litigation cases. To learn more about Clifford Law Offices, visit http://www.CliffordLaw.com