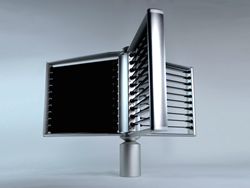 Most people don't realize the ocean is always moving, giant flowing underwater currents that circle the globe. This energy if safely and efficiently captured will bring an end to Pollution and Climate Change
Zephyrhills, Florida (PRWEB) November 05, 2014
Crowd Energy wants homes, vehicles, and factories to be powered by Clean Renewable Ocean Energy. In a world suffering from an addiction to Polluting Fossil Fuels and Nuclear Power, Crowd Energy offers a Clean Sustainable Solution to Safe Energy and Fresh Water.
Crowd Energy in a move to further develop this Disruptive Technology has circumvented traditional funding and is "Taking the power to the People" with a grassroots Clean Energy Crowdfunding Campaign on Indiegogo.com
Crowd Energy's Ocean Energy Turbine captures the limitless power of the ocean and converts it to Clean Renewable Energy and Fresh Potable Water twenty-four hours a day. The Ocean Energy Turbine represents a breakthrough in energy technology allowing humanity for the first time to safely and efficiently harness the eternal power of the oceans to re-power the world.
"Most people don't realize the ocean is always moving, giant flowing underwater currents that circle the globe. This energy if safely and efficiently captured will bring an end to Pollution and Climate Change," says Todd Janca - Founder of Crowd Energy .
The "Ocean Energy Turbine - Climate Change Solution" Crowdfunding campaign on Indiegogo has just surpassed $10,000 in donations from 260 backers and is offering some exciting rewards such as a #ClimateHero themed Tesla Dual Motor Model S P85D electric car.
Crowd Energy is raising funds to move the Ocean Energy Turbine to FAU's Southeast National Marine Renewable Energy Center for validation and Open Water Testing. After the required validation and certification, Crowd Energy will begin production of the "Utility Scale" Turbine which can power up to 13,500 homes from a 3m/s ocean current.
Ocean Energy has many advantages. Unlike Wind and Solar Power which only produce electricity when the sun is shining or the wind is blowing, the Ocean Energy Turbine produces a consistent supply of electricity and fresh water all of the time.
Please join Crowd Energy in developing a responsible transition to Clean Energy and Energy Independence.
Click Here to go to the Campaign : http://igg.me/at/ocean-energy-turbine/x/9044748
Photos and Videos: https://www.indiegogo.com/projects/ocean-energy-turbine-climate-change-solution/x/9044748#gallery
For more information and to schedule an interview contact:
Devin Christy - devin(at)crowdenergy(dot)org
Phone:+855 732 8872
4922 Airport Road
Zephyrhills Florida 33542 USA