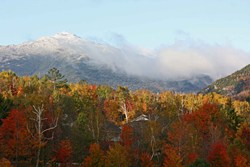 Mt. Washington Valley, NH (PRWEB) August 13, 2013
The New Hampshire climbing school and mountain guide service Synnott Mountain Guides, which guides the rock and ice climbing, mountaineering and backcountry ski areas in Mt. Washington Valley, New Hampshire, has published fall rock climbing course dates and early winter Mt. Washington one-day mountaineering programs on its NewHampshireClimbing.com website. Synnott Mountain Guides offers year-round private guiding services, but sets group climbing course dates to offer lower-cost climbing instruction to individuals and new participants to the sport. As one of the most respected climbing schools and guiding services in the Northeast, Synnott Mountain Guides is proud to offer more scheduled climbing course dates than any other climbing school or guiding service in New England.
Synnott Mountain Guides has scheduled Intro to Rock Climbing courses most days and every weekend from August through October. Intro to Rock Climbing Courses take place on famed New Hampshire rock climbing areas such as Cathedral Ledge, the 500 foot granite wall that towers over North Conway and Whitehorse Ledge, which is right next to Cathedral Ledge and offers slab climbing of more than 1,000 linear feet perfect for the beginning climber as well as a variety of significantly more challenging climbing opportunities. Synnott Mountain Guide's has scheduled one-day Mt. Washington mountaineering ascents beginning in November at which time, Mt. Washington is typically under full mountain conditions.
Mt. Washington Valley is known for some of the most spectacular foliage in the entire country and the very best way to experience it is to get out of the car and onto the hiking trails. This fall Synnott Mountain Guides will begin offering Fall Foliage Tours. With a thorough knowledge of the entire trail system in the White Mountains, Synnott Mountain Guides knows the secret spots that are less crowded and offer the most breathtaking views perfect for photography and creating life-long memories.
About Synnott Mountain Guides
Synnott Mountain Guides is owned and operated by professional climber Mark Synnott. Mark has taken on adventure in places like Patagonia, Pakistan, Nepal, India, China, Tibet, the Alaska Range, the Amazon, West Africa and Pitcairn Island in the South Pacific. When not in the mountains, Mark works with The North Face research, design and development teams and he lectures frequently on his life of adventure. He's also a successful freelance photojournalist and a senior contributing editor at Climbing Magazine. His articles and photos have appeared in many publications in the U.S. and abroad, including National Geographic Adventure, Men's Journal, Outside, Skiing and New York Magazine. Mark Synnott is also the author of Baffin Island – Climbing, Trekking & Skiing, a Baffin Island guidebook illustrated with stunning photos and detailed maps. Synnott Mountain Guides includes a dozen of New England's most experienced climbing guides, many of whom have experience climbing around the world. More information about Synnott Mountain Guides, its climbing guides, Mark Synnott's climbing expeditions and the complete fall and winter 2013/2014 climbing course schedule can be found at http://www.newhampshireclimbing.com/.