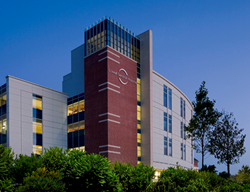 As Lowell General Hospital looks to establish the Perioperative Surgical Home we believe strongly that this innovation collaboration with ClinicalBox will help us to rapidly realize that vision
Boston, MA (PRWEB) September 24, 2015
Lowell General Hospital and ClinicalBox, Inc. announced today that they have been selected as winners of a nationwide Innovation Challenge. The Department of Health and Human Services' (HHS) Office of the National Coordinator for Health Information Technology (ONC) selected the six winners from among 78 host-innovator teams from across the country. At the start of the challenge almost 500 organizations expressed interest in finding partners through the matchmaking program. More than 300 in-person meetings were held in San Francisco, Washington, D.C., and New York City.
"The ClinicalBox team believes that the right software can power the value-based healthcare system of the future," said ClinicalBox's CEO, Dr. Farbod Hagigi. "Our coherent approach to care coordination, digital engagement, and the integration of wearable sensors, ensures an excellent patient experience, improved outcomes and predictable costs," he continued.
ClinicalBox, Inc., a Boston-based healthcare technology company develops powerful software for care coordination, patient engagement, and performance analytics across the surgical care continuum. "We designed ClinicalBox's solutions to be intuitive and fast to use from day one. Every minute of a surgical care team's time is precious, which is especially true for patients receiving life changing surgery," said Dr. Salim Afshar, a practicing surgeon who is a ClinicalBox co-founder and its Chief Medical Advisor.
"Time is of the essence," said Cece Lynch, Lowell General Hospital's Chief Nurse Executive and Vice President of Patient Care Services. "Our nurses work day in and day out to deliver excellent care for our patients. Our goal with this innovation collaboration is to make their important work with patients easier and even more impactful."
This innovation collaboration will focus on applying ClinicalBox's software solutions to care coordination and patient engagement during surgical episodes of care. "As Lowell General Hospital looks to establish the Perioperative Surgical Home we believe strongly that this innovation collaboration with ClinicalBox will help us to rapidly realize that vision," said Dr. Harohalli Vijayakumar, Lowell General Hospital's Chief of Anesthesiology.
"We are always looking for ways to drive excellence into our operations and see this as an opportunity to drive towards nuanced and intelligent standardization," said Lynch.
Lowell General Hospital and Circle Health have put care coordination and patient engagement at the center with Complete connected care™ as its organizational promise. "Lowell General Hospital has a history of being forward thinking. All of our investments in our facilities, staff and technology have positioned us for the future," continued Lynch.
"Fast decision-making, a thirst for driving innovation at the community-level, and a goal to make significant progress on the Institute for Healthcare Improvement's (IHI) Triple Aim, all influenced our decision to collaborate with Lowell General Hospital," said Dr. Hagigi.
About Lowell General Hospital
Lowell General Hospital is a not-for-profit, community hospital serving the Greater Lowell area and surrounding communities. With two primary campuses located in Lowell, Massachusetts, the hospital offers the latest state-of-the-art technology and a full range of medical and surgical services for patients, from newborns to seniors. It is part of the Circle Health ACO and also Part of Wellforce, an integrated delivery system formed by Lowell General Hospital and Tufts Medical Center. For more information about Lowell General Hospital and its services, visit lowellgeneral.org, follow on Twitter @LGHWELL and Like Lowell General Hospital on Facebook.
About ClinicalBox, Inc.
ClinicalBox ensures smooth coordination and patient engagement across the care continuum through software solutions that engage providers, patients and their families, to ensure timely, appropriate care leading to better outcomes and lower costs. Its platform is designed to be mission critical for healthcare delivery systems which serve complex, high-cost patients requiring significant coordination and engagement. ClinicalBox accomplishes this through software that cleanly organizes all the data connected to an episode of care and then targets care coordination, patient engagement, and performance analytics solutions at the right place at the right time. ClinicalBox's platform interfaces seamlessly with EHRs. ClinicalBox solutions enable delivery systems to successfully execute value-based risk-sharing contracts with health insurers. For more information about ClinicalBox, Inc. please visit http://www.clinicalbox.com and follow on Twitter at @clinicalbox