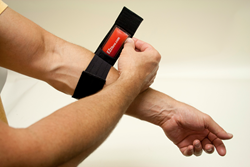 Our goal with EZElbow is to change the standard treatment protocol for tennis elbow.
(PRWEB) February 24, 2014
Clinically Fit, Inc. has announced the release of its newest product, the EZElbow System for Tennis Elbow, the first comprehensive rehabilitation system for tennis elbow developed to address all four essential components required to optimize the healing process.
Because compression alone doesn't fix the problem, the EZElbow system known as EZElbowPro helps prevent further injury, deliver maximum blood flow, treat the symptoms and address the cause of tennis elbow, in turn helping accelerate recovery time while minimizing the many setbacks often experienced while trying to rehabilitate tennis elbow. The dual adjustment compression platform integrates targeted acupressure, cold and heat therapies to enhance blood flow, and relieve pain and stiffness, while the Xtensor hand exerciser strengthens the elbow muscles and tendons.
EZElbow was developed by Clinically Fit, Inc., the manufacturers of the internationally recognized Xtensor Hand Exerciser featured by the Wall Street Journal, The Doctors, XBOX Magazine, and winner of the prestigious Medical Design Excellence Awards. EZElbowPro also enables the elbow tendons to absorb greater amounts of stress to help prevent future reoccurrences of tennis elbow.
According to Scott Kupferman, CEO of Clinically Fit Inc., "Nearly five million people are diagnosed each year with tennis elbow. Our goal with EZElbow is to change the standard treatment protocol for tennis elbow. This is the first product that works not only to help prevent further injury but also to treat the symptoms while addressing the cause of tennis elbow."
Known in the medical world as epicondylitis, tennis elbow is a common and often painful condition caused by micro tears and inflammation on the part of the finger extensor tendon located near its origin point. Micro tears are caused by heavy or repetitive activity. Most cases are curable without surgical intervention but the duration of tennis elbow is often more than one year with many setbacks along the way.
Keeping muscles and tendons strong is essential to the healing process as muscles act as pumps to drive blood flow delivering vital nutrients such as vitamins, minerals, amino acids and oxygen. All are needed for optimal performance and healing throughout the body.
"The key reason tennis elbow lasts for so long with numerous painful setbacks along the way is the lack of adequate blood supply," Kupferman added. "EZElbow helps stimulate blood flow and help people bounce back more quickly."
The EZElbow compression strap is available for $34.95, while EZElbowPro is available for $62.95 both with free shipping. For more information or to purchase EZElbow, visit http://www.ezelbow.com.
###