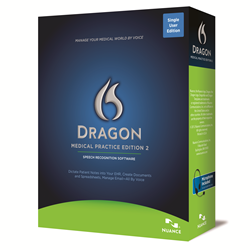 By incorporating Dragon Medical into their EMR workflow they can help reduce that EMR documentation time penalty
Atlanta, GA (PRWEB) December 04, 2014
Clinical Practice Solutions, home to SpeechDrivenEMR.com, has announced the availability of their program, "Making Dragon Affordable," which offers Dragon® Medical Practice Edition 2 for medical professionals, bringing the most advanced speech-recognition technology to another important niche in the healthcare community. Practicing medical professionals can now experience the full benefits of a speech-enabled practice backed by a trusted source in the industry offering value-added support services that ensure successful integration with EMRs without the upfront financial outlay.
"Physicians are frustrated with current Electronic Medical Record technology because the technology reduces them to a clerical role," stated John Macikowski, Director of Business Development for Clinical Practice Solutions, Inc. "This is a gross misuse of their time and training, and also does their patients a disservice. However, by incorporating Dragon Medical into their EMR workflow they can help reduce that EMR documentation time penalty while still preserving the detail of their patient narrative, and do so more cost effectively than using medical scribes or a dictation services. Not only does Dragon free up much of the time providers spend typing, time previously spent with patients, but more detailed patient notes can also provide a measure of security for the practice from both liability and insurance audit perspectives."
Dragon Medical Practice Edition 2 is the most advanced speech recognition solution available for medical providers to date. With over 90 medical specialty and subspecialty vocabularies included in the software, even the most complex terminology and phrasing is transcribed with more than 99% accuracy right out of the box. As one example, from multiple sclerosis to radiculopathy, the Dragon Medical software neurology vocabulary understands the unique language of neurology, giving providers the ability to create clinical documentation and correspondence three times faster than typing and redirect the focus back to quality patient care, thereby reducing or eliminating transcription costs and allowing for more time actually spent with the patient.
Dragon Medical Practice Edition 2 also helps clinicians overcome the frustrations associated with EMR adoption by speech-enabling navigation and searches with customizable macros. Physicians can speak in their own words to document comprehensive patient notes that give them more confidence when coding and ultimately lead to higher reimbursement levels.
With Clinical Practice Solutions program, "Making Dragon Affordable," medical professionals such as gynecologists, neurologists, pediatricians, psychiatrists and other high documentation specialties can have all the benefits of Dragon Medical Practice Edition 2 without the initial financial outlay, thus enabling them to experience an even greater ROI over time as they eliminate or greatly reduce transcription costs, streamline workflows for all the clinicians in a small practice of 24 or less, and allow for more time spent with patients than time spent in front of a computer. One phone call to Clinical Practice Solutions can help clinical specialists make a change for the better in the way they practice medicine.
For more information about Dragon Medical Practice Edition 2 visit: http://www.speechdrivenemr.com
About Clinical Practice Solutions:
Clinical Practice Solutions, Inc. is a Health Care Solutions Partner for Dragon® Medical speech-to-text software by Nuance and the eClinicalWorks® fully integrated practice management software suite. We provide the proper training and support to allow the physician the freedom to practice medicine and put their focus back on their patients instead of on their documentation requirements. Clinical Practice Solutions specializes in reducing the EMR Documentation Time Penalty by incorporating Dragon® Medical into the EMR workflow in a logical and easy to implement manner.