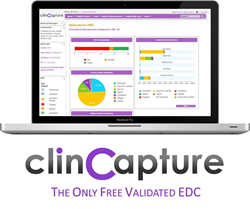 Sunnyvale, CA (PRWEB) December 09, 2014
Clinovo is hosting the next session of its one-hour Virtual Update on December 11th, 2014, at 10am PST. During this live demo, EDC expert Tom Hickerson will showcase do-it-yourself edit check and Case Report Form (CRF) build features added to ClinCapture, the only free validated Electronic Data Capture (EDC) system on the market.
The demo will be followed by a Q&A session to guide clinical trial professionals in their clinical study builds efforts. Register for Clinovo's upcoming Virtual Update at http://www.clinovo.com/virtual-update to see the latest product enhancements to EDC system ClinCapture.
Clinovo's upcoming virtual update will demonstrate how to create and deploy clinical studies on the cloud in minutes. This webinar will also showcase how to build and publish Case Report Forms (CRFs) in a matter of days without any programming experience using ClinCapture's self-service platform and intuitive drag-and-drop tools.
ClinCapture's recent enhancements come with a new pricing model that offers a free "Standard" Package with pay as you go features allowing users to pay only for what they need.
Tom Hickerson, Senior EDC Manage at Clinovo leads the development of ClinCapture as well as study build projects. Tom was one of the first open source EDC experts and has more than 10 years experience on open source technologies for EDC system.
Details: ClinCapture Builder Virtual Update - Use our intuitive drag and drop CRF builder to build and deploy your study faster
Date, time: December 11, 2014 at 10-11am PST
Link to register: http://www.clinovo.com/virtual-update
About Clinovo:
Clinovo is a technology focused Contract Research Organization (CRO) headquartered in the Silicon Valley. Clinovo streamlines clinical trials for life science companies globally by developing validated, intuitive eClinical systems. Clients claim over 50% cost savings using Clinovo's Electronic Data Capture (EDC) system ClinCapture®, and CDISC Express, the first open source CDISC conversion tool. Services also include Biometrics Services, Staffing Solutions, and TechTrainings.
Contact information
Sophie McCallum
Director of Operations, Clinovo
408-773-6258
sophie(dot)mccallum(at)clinovo(dot)com