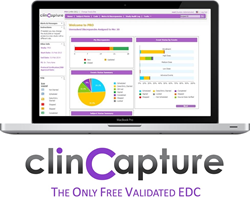 We are excited to present and introduce our cloud based EDC system, ClinCapture at this event.
Sunnyvale, CA (PRWEB) December 08, 2014
Clinovo presents its cloud-based technology and EDC solution ClinCapture at the San Diego Clinical Research Network event in San Diego on December 9th, 2014. This program provides an introduction to using the cloud in the life sciences and clinical trials.
Marc Desgrousilliers, CTO of Clinovo and a pioneer in the application of cloud computing to clinical trials, among other local speakers from Thermo Fisher Scientific and Neurocrine Biosciences, will discuss the benefits of using cloud-based applications (such as EDC, CRMS, ePRO, and Randomization), as well as concerns (privacy, security, and regulatory) in using the cloud.
Marc Desgrousilliers will discuss how to get started when considering a cloud approach towards clinical trials. He will also share the benefits and impacts of cloud computing for clinical trials, safety of data in the cloud, and ways that biotech companies can get started with the cloud technology.
The attendees of this event will learn how to evaluate whether or not to adopt a cloud-based approach in their studies, and how to get started using the cloud for clinical trials. Program speakers will share their visions of the potential of cloud-based systems to transform industry practices, from DNA analysis to study monitoring. Tickets for this event can be purchased here.
Clinovo will also introduce its Electronic Data Capture (EDC) system ClinCapture, the only FREE cloud-based EDC solution. ClinCapture features a brand new self-service platform and DIY CRF builder that allow Clinical Trial Managers to create CRFs and Edit Checks in a matter of days, without any programming experience.
ClinCapture removes IT dependency and brings significant savings compared to existing solutions in the industry, while meeting the regulatory compliance requirements. Now for the first time, sponsor companies can fully control the development, distribution and budgeting of their EDC solutions. ClinCapture is the only Electronic Data Capture solution hosted in a 21 CFR part 11 compliant cloud environment, for free.
About Clinovo:
Clinovo is a technology focused Contract Research Organization (CRO) headquartered in the Silicon Valley. Clinovo streamlines clinical trials for life science companies globally by developing validated, intuitive eClinical systems. Clients claim over 50% cost savings using Clinovo's Electronic Data Capture (EDC) system ClinCapture®, and CDISC Express, the first open source CDISC conversion tool. Services also include Biometrics Services, Staffing Solutions, and TechTrainings.
Contact Information:
Sophie McCallum | Director of Operations
sophie(dot)mccallum(at)clinovo(dot)com | +1 (408) 773 6258