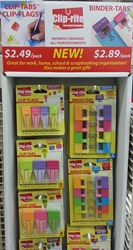 BINDER-TABS™ are a triple-shot of high-speed fun, function, & dynamic design that will keep you organized in 2014.
San Francisco, CA (PRWEB) January 22, 2014
Binder clips were invented over a century ago, but it took an ex-Intel engineer mom from California to dream up a hip new design and make them functional and cool with BINDER-TABS™ by Clip-rite, Inc.
An icon of office products, the binder clip keeps documents, homework and other items together everywhere. Its metal mechanism is a paragon of desktop design, but when Janet Lau – engineer, founder and designer of Clip-rite, Inc. – saw something was "note-ably" missing, BINDER-TABS™ were born.
BINDER-TABS™ update the basic binder clip by adding vibrantly colored, heavy-duty paper tabs around the metal snap. The results are multi-colored binder clips with room to write notes on durable, no-smear paper tabs that pop over the stack. Unlike binder clips that merely fasten papers, BINDER-TABS™ communicate what they're about above the clip. They replace cumbersome paper file folders on the desktop, making it quick and easy to access documents as they add a zing of color-coded style in the process.
BINDER-TABS™ are a triple-shot of high-speed function, fun and dynamic design to keep you organized and on the cutting edge in 2014. Talk about timing - Lunar New Year is January 31, 2014. The coming year, 4712 on the Chinese calendar, is the Year of the Horse. The Horse year is filled with great energy, big dreams and creative communications – perfectly aligned with the BINDER-TABS™ lifestyle.
The binder clip is one of the most reinvented stationery products of all time, but BINDER-TABS™ take them to a whole new level. This creative clip for paper works as bookmarks and picture stands, for starters, as well as organizers and labels for computer cords and plugs. They'll even fly as money clips, personalized wine charms and bag closers for snacks. The sky's the limit for ways to use BINDER-TABS™.
BINDER-TABS™, CLIP-RITE PRODUCT LINE NOW FEATURED AT Kmart®
Patented BINDER-TABS™ are the latest addition to the runaway-hit Clip-rite product line, joining Clip-Tabs™ and Clip-Flags™, the patented paper clip and sticky note hybrids that have sold millions of units worldwide since launching in 2007. BINDER-TABS™ come in many sizes and colors, including a limited edition set of stripes, pastels, butterfly and floral prints now available at Kmart®, Walmart and OfficeMax stores. Larger BINDER-TABS™ can hold up to 60 sheets of paper.
The entire Clip-rite product line is now featured at Kmart® with colorful "sidekick" displays in stores coast-to-coast.
INTRODUCING CLIP-RITE FOUNDER JANET LAU
This is more than a story of a breakthrough office product -- it is also a lesson in contemporary American innovation. Janet Lau, an entrepreneur of Chinese-American heritage who was born and raised in Brazil, graduated from UC Berkeley with a B.S. in materials science and engineering, and pursued an engineering design career in the technology industry. Before founding Clip-rite, Ms. Lau left Intel to start up Ficcare, a line of upscale women's fashion accessories sold at fine department stores, boutiques, and salons in more than 10 countries. While starting up Ficcare, Ms. Lau also became a young mom as well.
Discover the groovy new way to get it together and stay organized in style with patented BINDER-TABS™, available in the home and office stationery aisles at Kmart®, Walmart, Office Depot®, OfficeMax®, and Fred Meyer stores. They are also available at many local stationery stores and college bookstores.