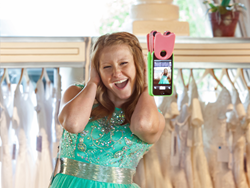 "What started as a smartphone selfie holder has evolved into a multi-use product."
(PRWEB) September 11, 2014
Clipity is a hands-free device that transforms taking selfies, navigating with GPS, Skype and FaceTime calls, and recording YouTube videos into a fun and struggle free event. For over a year Clipity has been fine tuning the clips prototype, and a Kickstarter (http://kck.st/1xbkZD0) campaign has been launched by founder and creator Steve Taylor. The campaign's goal is to reach $5,000 in startup funds and will come to a close on Friday, October 3, 2014 at 9am PDT.
Clipity (http://www.myclipity.com/our-story/) had humble beginnings, functioning as a stand and consisting of cardboard and pink duct tape. "What started as a smartphone selfie holder has evolved into a multi-use product. You can use Clipity as a stand to watch videos, talk on the phone, make Skype and FaceTime calls, listen to music, and more. Attach Clipity to a smooth surface using its suction cups and it becomes a selfie taker, a video maker, and GPS navigation holder," said Mr. Taylor.
Mr. Taylor saw a need for an easy-to-use smartphone selfie taking aid when his friend sent him a link to a bad selfie website, "The photos were pretty bad and they all had one thing in common: the smartphone was prominently displayed in the photo." The current design has a tight grip that works with a wide variety of smartphones. Clipity has two strong suction cups that securely attach to a mirror or other smooth surface, and has a hole that the camera can aim through. When used as a stand, the hole allows for easy access to the phone's home button. They've also created a free app which has a countdown timer and multi-shot option. The app will be available in the Apple App Store by the end of the Kickstarter campaign.
Through this Kickstarter campaign, Clipity plans to use their startup funds of $5,000 to purchase parts and begin assembly, so that they can begin fulfilling orders in October.
About Clipity
Clipity was founded by Steve Taylor because he saw the need for an easy to use device to hold a smartphone on a mirror when taking a selfie. Clipity evolved from a smartphone selfie holder into a multi-use product. For more information, go to http://myClipity.com.