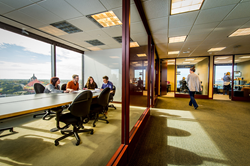 CliqStudios.com is America's largest kitchen design studio and the leading online seller of semi-custom kitchen cabinets.
Minneapolis (PRWEB) October 13, 2015
CliqStudios.com, a Minnetonka-based kitchen design studio and online company, announced they have expanded and opened a new office bringing up to 50 professional jobs to downtown St. Paul. Most of the newly created jobs will be for professional kitchen designers who work with homeowners nationwide to plan and design kitchen construction or remodeling projects. CliqStudios sells their kitchen cabinets and related products online, reaching homeowners through social media, television including HGTV as well as through national home and lifestyle magazines.
"Remodeling a kitchen can be a stressful event, but we believe it doesn't have to be. Our goal is to pair professional designers and project coordinators with homeowners to make the process easy and enjoyable," said Jay Swenson, CliqStudios Vice President of Marketing. "Our new St. Paul design studio is truly representative of the company culture we try to foster. The environment is professional, and our team enjoys creative freedom and the opportunity to collaborate with other designers. Today's technology enables our designers to connect personally with clients across the country. We're helping to pioneer a new wave of home improvement where savvy homeowners pay less by buying factory direct and get a higher level of service at the same time."
Swenson added, "We opened our east metro office to reduce the commute for our designers and to attract new designers living on that side of the Twin Cities. Of course, the 24th floor studio's sweeping views of downtown St. Paul and the Riverfront are an amazing addition to the creative environment, too."
CliqStudios opened their new design studio in Wells Fargo Place. As the company moved into the space, a few designers transferred from the west metro design studio, while 15 new designers from the east metro have already been hired and started work. The company is continuing to recruit additional kitchen designers to fill 25 or more jobs.
"We believe that together our Minnetonka and St. Paul locations form the single largest kitchen design studio in the country," Swenson said. "In a typical day, one of our designers may work on a remodeling project on Long Island, a new construction project in San Diego or anywhere in between. In a retail setting, kitchen designers are sometimes distracted by other job duties, but we focus on taking care of our clients and delivering creative and functional kitchen designs."
CliqStudios began selling kitchen cabinets online in 2010 and has always included the kitchen design as a free service. The company ships kitchen cabinets nationwide from a new 1.5 million square foot manufacturing facility in Indiana which opened in March 2014. To view the company's current openings or to apply online, visit cliqstudios.com/careers/.
About CliqStudios
CliqStudios.com is America's largest kitchen design studio and the leading online seller of semi-custom kitchen cabinets. As a vertically integrated manufacturer of semi-custom cabinets, CliqStudios is changing how consumers purchase cabinets by selling factory direct nationwide from their headquarters and design studios in Minnetonka and St. Paul, MN. Visit http://www.cliqstudios.com for more information.