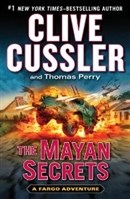 "The story moves at a brisk clip, leaping from location to location, with an assortment of colorful villains. This is one his fans won't want to miss."—Booklist
Portland, OR (PRWEB) November 12, 2013
Fans of the Fargo Series featuring husband-and-wife team Sam and Remi Fargo are in for a treat with the newest offering, Mayan Secrets, by author Clive Cussler and Thomas Perry. "We've created a beautiful matched set of limited lettered and numbered editions" reports Norwood Press owner, John Hutchinson.
The limited numbered Norwood Press edition is hand signed by Cussler and Perry, numbered 1-98, have custom 3/4 marbled boards in a matching slip-case and are stamped in gold.
Limited Lettered Editions are hand signed by both authors, lettered A-ZZ and come in a fully marbled slip-case with custom boards and end papers, stamped in platinum. (Lettered editions are by subscription with future placement guaranteed).
"Adding limited edition books to a book collection takes it to an entirely new level," said Hutchinson. "They are not only wonderful stories, but these beautiful books are a great way to add value to any book collection."
Typically publisher advances are the first book a collector might consider. There are usually less than 1,000 available and they are not usually signed. After that, the true first (hardcover) edition, typically either US or UK, autographed by the author, is the most sought-after edition. "90% or more of our inventory is signed by the author and 100% have been hand graded for the collector" Hutchinson reports.
Book collectors see autographed and limited edition books as appreciable assets - their value increases over time and as additional books in the collection are acquired. Those new to book collecting are encouraged to see it as similar to collecting stamps or wine. "Readers are surprised to learn that 60% of the value of a (hard cover) book is determined by the quality of the dust jacket." Hutchinson explains. "Our limited edition titles are sought-after by passionate fans, or individuals seeing the value in investing in appreciating assets."
Mayan Secrets will be the 38th limited edition of a Clive Cussler title that Norwood Press has produced since 2003. "Our relationship with Clive and his co-author's is more than just about publishing. We have enjoyed getting to know each of them personally starting with Paul Kemprecos and Jack DuBrul, then Grant Blackwood, Justin Scott, and Dirk Cussler, and more recently Graham Brown and Thomas Perry. We consider them all friends and look forward to their future works," continues Hutchinson, "each series offers fans different characters to follow with the guaranteed Cussler excitement."
Husband-and-wife team Sam and Remi Fargo are in Mexico, when they come upon a remarkable discovery—the skeleton of a man clutching an ancient sealed pot, and within the pot, a Mayan book, larger than anyone has ever seen. The book contains astonishing information about the Mayans, about their cities, and about mankind itself. The secrets are so powerful that some people would do anything to possess them—as the Fargos are about to find out.
Before their adventure is done, many men and women will die for that book—and Sam and Remi may just be among them.
"The fifth Fargo adventure is the best of the series so far. Danger abounds, of course, but it's the characters who sell the story. Sami and Remi Fargo, the husband and wife treasure hunters and globe-trotting adventurers, are likable and gutsy. The story moves at a brisk clip, leaping from location to location, with an assortment of colorful villains. This is one his fans won't want to miss."—Booklist
Company Information:
Norwood Press, an imprint of long-time internet bookseller VJ Books, is widely recognized for their publications. Offering collector editions in partnership with many of today's most prominent authors, they specialize in mystery, suspense and adventure genres.
VJ Books started in 1998, and soon learned that their customer was foremost a collector. Their customers sought collector grade first edition books, preferably signed by the author.
In an effort to respond to this demand, VJ Books has developed relationships with publishers, authors and their agents to provide a continuous supply of new titles for our customers. Each month customers are able to choose from dozens of author signed books from some of the most exciting, highly acclaimed authors in the areas of mystery, suspense, sci-fi and modern literature. Additionally, they continue to offer an impressive selection of backlist, rare, out-of-print, and special edition titles for your consideration.
###
Contact:
Facebook: vjbooks
Twitter: vjbooks
Virginia Lenneville
marketing(at)vjbooks(dot)com
503-750-5310