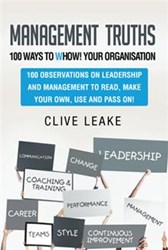 ENGLAND (PRWEB) January 27, 2014
People live in a YouTube world of sound bites and instant messaging, a world in which brevity, buzzwords, management-speak and pace are paramount and impact highly important. Internet, email, tablet and smartphone technology have fundamentally changed the way people access, learn from, and share information. In short, the communications revolution has arrived and the rules of the game for leaders and managers have changed. The days of having to wade through a 300-page business 'novel' or textbook to get, at most, two good ideas are over.
People don't have time to sit through two or three days of mind-numbing management or leadership development just to get to the 'golden nugget' on day 2 in the late afternoon and covered in less than three minutes on the day. This book is brief, practical and is not designed to be read from cover to cover. It is there for 'daily dipping'. A daily 60 second boost.
"Management Truths – 100 Ways to Whow! Your Organisation" is a collection of short, wry, though equally insightful thoughts and observations about leadership and management – a 100 in total. More of a coffee-machine than a coffee-table book, each observation stands alone and captures the essence of a particular theme in succinct, witty, and easily accessible way. It covers aspects of leadership and management including managing change, training and coaching, communication, managing performance, career, teams and personal style.
It is a light, fun way to improve leadership and management knowledge, skills and behavior. With its punchy sound bites, readers will have an easy way to learn to be more effective as a leader and manager.
For more information on this book, interested parties may log on to http://www.XlibrisPublishing.co.uk.
About the Author
Clive Leake is the founder of Whow! Leadership and has more than twenty-five years' experience as a one-to-one business coach and leadership development specialist. He has held senior management and executive positions in the fast-moving consumer goods (FCMG), paper manufacturing, and financial services industries. He has considerable international experience coaching executives and facilitating senior team development in Australia, China, USA, Thailand, Japan, Singapore, Hong Kong, and most European countries. Leake is also the author of The Z–A of Coaching, and Management Truths is his second book. He has also developed three successful online questionnaire and development guides: the Management Workout (used by over 1,500 leaders and managers), the Coaching Workout, and the Lean Workout.
Management Truths – 100 Ways to Whow! Your Organisation* by Clive Leake
100 Observations On Leadership and Management To Read, Make Your Own, Use and Pass On!
Publication Date: January 8, 2014
Trade Paperback; £13.99; 222 pages; 9781493121465
Trade Hardback; £23.99; 222 pages; 9781493121472
e-book; £3.99; 9781493121489
Members of the media who wish to review this book may request a complimentary paperback copy by contacting Xlibris Marketing Services at 800-056-3182.