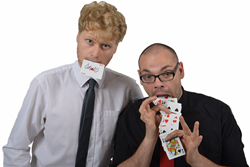 the captain was so impressed he arranged another performance just for himself and the crew
UK (PRWEB) September 19, 2014
Over the next few months Slightly Unusual will be performing for Brittany Ferries all throughout Europe. Both Samuel Leeds and Craig Petty will be performing on various ships presenting their award winning cabaret shows as well as performing close up magic.
Slightly Unusual are considered among the top magicians and illusionists in the UK. They are unique as they offer close up magic, stage shows, parlour shows and even grand illusion shows. This versatility is something that their clients love and one of the reasons corporate clients and event planners book Slightly Unusual again and again. Slightly Unusual have worked with Brittany Ferries for a number of years and every time a member of the act heads to sea they receive rave reviews.
"I remember the first time I performed on board a ship for Brittany Ferries" says Craig Petty, Marketing Director for Slightly Unusual and one of the performers booked to perform this season. "After my performance on the first night the captain was so impressed he arranged another performance just for himself and the crew!"
Brittany Ferries is a French ferry company that runs ships between France and England, France and Ireland, France and Spain, and England and Spain. They have a number of different acts that perform all year round but frequently book members of Slightly Unusual. The reason for this is simple - they recognise that when it comes to entertainment Slightly Unusual really are in a league of their own.
"We will be on board throughout the majority of September and October 2014," says Anna Leeds, Operations Director at Slightly Unusual Ltd. "Craig will be performing for a week in September and a week in October whilst Sam will be handling most of the other dates."
If you haven't seen one of Slightly Unusual's award winning cabaret stage shows then this is the perfect opportunity to see them perform. Many clients have booked Slightly Unusual for events such as weddings, corporate events and gala dinners having seen them initially onboard. For a full list of dates and who is performing and when, check out the tour page on the acts website.
For more information about this press release please contact Craig Petty, Marketing Director for Slightly Unusual