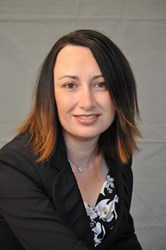 We are delighted to have Tanya's drive and passion to lead the growing marketing team.
Rockville, MD (PRWEB) September 16, 2013
Closeline, LLC is pleased to announce the promotion of Tanya Themistokleous to Chief Marketing Officer (CMO). In this position, Tanya will lead all marketing, corporate communications and business development initiatives for the Closeline family of companies.
"Tanya is part of a core group of people who have been with this organization for many years. She has been instrumental in helping to build and brand the company, developing and implementing our marketing strategy and consistently improving the customer experience," said Elliot Liss, Co-Founder and Principal at Closeline. "As Closeline celebrates its 20th year in business, we are excited about the growth of our family of companies and the continued expansion of value added real estate products and services we bring to the industry. We are delighted to have Tanya's drive and passion to lead the growing marketing team."
Tanya joined Closeline in 2004 as Senior Vice President, Marketing and Sales. A proven marketing executive with more than 15 years in marketing, branding and business development, Tanya has led strategy and development of multi-platform marketing programs comprising of business to business and business to consumer marketing, advertising, corporate communications, digital marketing, and customer service and sales. Prior to joining Closeline, Tanya served as the Director of Marketing at the Association for Financial Professionals and the Director of Marketing at GE Healthcare Finance.
A results driven executive, Tanya has been published in various industry publications and has been featured in varied speaking engagements around the country. Tanya earned her MBA from American University Kogod School of Business and a BA in Business Management from Clark University. She is a licensed title agent in Maryland, DC and Virginia, and a licensed Maryland Real Estate Agent.
About Closeline Settlements
Closeline Settlements was founded in 1993 by attorneys Michael P. Bell and Elliot M. Liss. Since that time, the national title company has grown into a multi-state title agency that services more than 40 states. By utilizing proprietary technology, Closeline Settlements developed a web based platform which allows its family of companies to have a multi-state branch network around the country. Today, Closeline's proprietary and innovative products allow them to offer a full range of customized residential and commercial title, escrow and lender services nationwide. The Closeline family of companies includes Closeline Settlements, Closeline of Arizona, Closeline Escrow of CA, Inc., Validata Lender Services, Premium Settlements, TitleConnect and Bell & Liss. For more information about Closeline and their full suite of services, please visit http://www.closeline.com or call 301-795-2880.