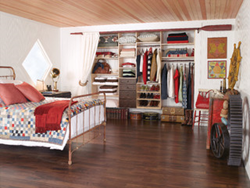 Being creative and open-minded is what we're all about
Portland, OR (PRWEB) July 22, 2015
Empire Closets in Portland, Oregon will often provide consumers with tips on ways to keep their homes clean and organized. Today, Empire Closets would like to highlight how homeowners can keep the home tidy when the kids are on summer vacation. Summer break can lead to a change in the way the home flows. This may mean a messier home that is suffering from the chaos of everyone being home more often.
Empire Closets recently published some blog posts about summer organization; they can be found here:
http://www.empireclosets.com/blog/adequate-storage-will-make-summer-more-organized/
http://www.empireclosets.com/blog/food-storage-for-kids-snacks/
The first blog discusses the adjustment of packing away winter clothes and swapping them for summer ones. They believe that adequate storage space plays a large role in storing these items and keeping the home functioning throughout summer. In this blog post, Empire Closets suggests a variety of storage solutions and believe the use of these options can improve the organization of the home in the summer time. They are proud to offer a variety of creative storage option to their clients and say they do not turn their backs on a project.
Robin Nicolaides, owner of Empire Closets says: "When it comes to innovative custom made closets, being creative and open-minded is what we're all about. We don't turn our backs on challenging spaces with mechanical or structural obstacles, or expect you to take on part of the projects' responsibilities."
The second blog focuses on the chaos that summer brings. Without the structured classes to attend or homework to finish, kids have much more free time. In this post, Empire Closets mentions some studies that recently found some connections between free time and child development. This free play-time allows children the flexibility to adapt to changing circumstances. This post also highlights the importance of keeping kids hydrated and fed throughout these hot summer days. Empire Closets recommends storage solutions that are within arms reach of small children.
Empire Closets believes that there is a series of options for reducing clutter and disorganization during the summer. The first way to keep the clutter down is to give everyone three jobs each day. Three is an easy to remember number that children can carry with them as they grow. When these jobs are assigned in an age appropriate manner, Empire Closets believes that home flow can be improved.
Getting out of the house is another way to avoid messing up the home. Empire Closets suggests outside play, finding a pool, going to the park, or visiting the local library as a way to make the most of the summer and keep the house tidy. They also think that eating outside is a way to keep the lunch mess out of the house, while also creating a fun experience. The last suggestion to consider is to only take out one activity at a time. Empire Closets believes that this will make for easier clean up and that teaching children to clean up after themselves can lighten the burden, and they can be taught from an early age to help out.