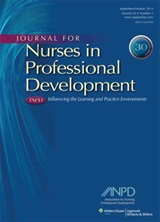 Cleveland, Ohio (PRWEB) November 12, 2014
In its latest issue, the Journal for Nurses in Professional Development published "Closing the Practice Gap," an article highlighting NEONI's work that began in 2007 to ensure new nurse graduates were prepared for practice. The piece was authored by two members of the NEONI education committee, Patricia A. Sharpnack, DNP, RN, CNE, NEA-BC, ANEF and Hope M. Moon, RN, MSN, CNS, in conjunction with Pam Waite, MSN, RN-BC, MHSA, who staffs that committee as The Center for Health Affairs' director of healthcare workforce and NEONI operations.
"When we started the project we already knew there were some aspects of graduate nurse readiness that just weren't where they should be," explained Ms. Waite, "but we wanted to get a more concrete picture of the situation in our region and develop a strategy for closing the practice gap."
The article focuses on two components of NEONI's work: a survey assessing the extent of the nursing practice gap in Northeast Ohio and a description of a pilot project developed to mitigate it. The survey findings revealed that while Northeast Ohio did have a nursing practice gap, the overall perception of nurse preparedness in the region was higher than what was seen nationally. NEONI's practice gap pilot project, a training program for nurse preceptors focusing on the core competencies student nurses needed to develop, was also detailed in the article.
The practice gap pilot, which has since ended, used several strategies to increase new nurse competencies by educating nurse preceptors including:

An online curriculum aligned with each of the competencies in need of reinforcement.
Access to an online preceptor education course offered through Indiana University.
Provision of educational materials such as the book, "Mastering Precepting: A Nurse's Handbook for Success."
Orientation with assigned faculty member.
Funding for this work was provided by the Greater Cleveland Healthcare Association. For more information on the article, "Closing the Practice Gap," or on NEONI's practice gap pilot project, contact Pam Waite at 216.255.3650 or via email.
###
With a rich history as the Northeast Ohio hospital association, dating back to 1916, The Center for Health Affairs serves as the collective voice of hospitals and the source for Northeast Ohio hospital and healthcare information. As the leading advocate for Northeast Ohio hospitals, The Center aims to enhance the effectiveness of the healthcare community and the health of the communities it serves by providing expertise, resources and solutions to address the challenges faced by the region's healthcare providers. The Center's efforts focus on areas that benefit member hospitals from a regional approach, including healthcare workforce; emergency preparedness; public policy and advocacy; finance and reimbursement; and community initiatives. And because of its business affiliation with CHAMPS Healthcare, The Center has the resources to provide a broad level of professional services to its members. The Center, located in downtown Cleveland, is proud to advocate on behalf of 34 acute-care hospitals and two long-term acute-care hospitals in six counties. The Center for Health Affairs is honored to be named as one of The Cleveland Plain Dealer's Top Workplaces in 2014 and to ERC's Northcoast99 List in 2003, 2004, 2010, 2012 and 2014. For more, visit chanet.org.