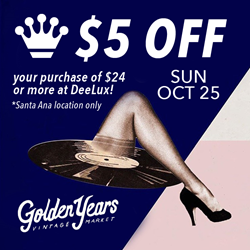 We still buy men's and women's clothing from the public, seven days a week, no appointment needed
Santa Ana, California (PRWEB) October 21, 2015
DeeLux, Orange County's first Buy-Sell-Trade clothing store, has moved from Costa Mesa to the Downtown Santa Ana Arts District.
Dave Brown, Co-Founder of Deelux, explains how a tour and timely opportunity inspired the move. "In June of this year we noticed a "For Lease" sign on the historic Santora building in downtown Santa Ana," says Brown. "We took a tour and were astounded by the beautiful restoration of this 1926 landmark. We liked the idea of being in a beautiful old building in a vibrant urban setting, so we took the plunge."
The historic Santora Building has been a mecca for artists for generations and still is. It once housed Daninger's Tea Room, a popular hangout in the 30's and 40's for Hollywood actors including Lucille Ball, Rosalind Russell and Milton Berle.
Dee Brown, Co-Founder of Deelux, and Dave had been watching Santa Ana's downtown scene blossom in recent years with lots of new restaurants, bars, art galleries and hair salons.
"We love how everyone we've met here has a real pride and enthusiasm for the Artist's Village," says Brown. "One of best things about Downtown Santa Ana is the Art Walk, held the first Saturday of every month."
Dozens of art vendors and performers take over the 2nd Street Promenade, and the galleries and art studios in the Santora building open their doors to the public for one night.
"For Dee and I and our staff, it's a chance to get to know our neighbors," says Brown.
Although the location has changed, Brown emphasized DeeLux's commitment to customer service, stocking up on both new and vintage clothing, and expanding their line of unique gifts, has not changed.
"We still buy men's and women's clothing from the public, seven days a week, no appointment needed," says Brown. "And unlike some of our competitors, the line to sell is never too long, and you can shop in the store while you wait for us to price your clothes."
The new store features a dramatic staircase leading to the upper level, which houses a bigger and better women's department. They augmented the recycled racks with a select section of brand new, fashion forward styles, and added a rack with trendy seasonal attire. DeeLux buyers recently outsourced a nice supply of recycled denim jackets, including vintage Levi's and a few very charming French work jackets.
They also expanded their gift section, with handmade Day of the Dead figurines, exotic jewelry and even socks with Frida Kahlo's portrait.
"We are the first in Santa Ana to carry Crap Eyewear, Natural Life and Poo Pourri," says Brown. "Our customers will also like our unique animal costumes from Kigurumi."
DeeLux is engaging it's new community by participating in upcoming local events. Most notably, the Golden Years Vintage Show and Beach Goth 4.
On Sunday, October 25, DeeLux is offering $5 off any purchase of $24 or more during the Golden Years Vintage Show.
For Beach Goth 4, a popular annual concert at The Observatory on Saturday, October 24 through Sunday, October 25, look out for the DeeLux booth.
"We will have a booth there both days selling t-shirts, sunglasses, dresses, tops and accessories," says Brown.
DeeLux is located at 209 N. Broadway, Santa Ana 92701
714-760-4801