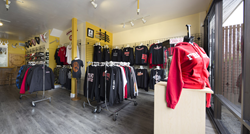 San Francisco, CA (PRWEB) November 14, 2014
415 Clothing is excited to announce that they have recently moved their store, and it is now better than ever. They are inviting new and current customers to come by and check out the new location.
The new 415 Clothing store is now located at 1555 Burke Ave., Ste. F, San Francisco, CA 94124. 415 Clothing is located in San Francisco's India Basin neighborhood. Visitors will know they are near the cool new store when they see the landmark mural on the old grain silos.
The new store will be open 11 a.m. to 5:30 p.m. Tuesday through Friday and 11 a.m. to 5 p.m. Saturday. The store is closed Sunday and Monday. Hours may vary, so be sure to call ahead to confirm. Can't make the regular store hours? 415 Clothing offers VIP personal shopping by appointment. For more information, call 415-255-8181. Customers also have the option of shopping online 24/7 at http://www.415clothing.com/. 415 Clothing will ship anywhere.
Customers can enjoy free parking at 415 Clothing when they come to visit. 415 Clothing is located in a multi-unit warehouse. Drive through the parking lot to unit F. There, one will see the designated parking.
It's that time again – time to start thinking about Christmas! 415 Clothing is the perfect place to go to find something for that special someone, or even that not-so-special someone. No matter who customers' are shopping for, 415 Clothing has everyone covered.
About the Company:
415 Clothing Company produces a very distinctive style of "Frisco" clothing. Come inside their clothing store and browse through the extensive selection of hats, shirts, jackets and more. The best place to get authentic, high-quality leather motorcycle jackets and men's clothing is at 415 Clothing Company in San Francisco. Find out why their brand is featured in magazines throughout the world and worn by celebrities such as Jessie James. Get the best in high-quality motorcycle clothing at 415 Clothing Company. For more information, visit their website at http://www.415clothing.com/.