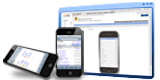 Advanced Competition Management Functionality on a Commutable Cloud CRM Platform
Delhi (PRWEB) December 18, 2013
CRMnext releases advanced competition management functionality to help businesses gain advantage against competitors and create winning strategies. It will ensure increased user adoption and productivity by enabling customer facing teams to easily capture and track all important details pertaining to competitors through a single interface.
The new competition management functionality will help in increasing the sales team's win rate by allowing them to effortlessly analyze competitors and make more effective offers to customers. It will enable teams to improve their marketing and customer strategies by empowering them to easily record the strengths and weaknesses of competitors. The smart tool will also allow representatives to slice and dice data to create ad hoc reports and dashboards that reflect the competitor's networking presence to develop smarter customer engagement strategies.
On the occasion, Dr. Manoj Kumar, Product Architect, CRMnext, said, "The advanced competition management functionality will allow companies to capture all competitor information on a single platform, thereby helping teams to effectively cross-sell and upsell to increase revenue."
About CRMnext:
CRMnext is a specialist Customer Relationship Management product company with focus on ultra-scalable installations. CRMnext team has proven track record of delivering High-Impact CRM solutions in their key practice vertical of Financial CRM, Banking CRM, Insurance CRM, Media CRM, Pharma CRM, Telecom CRM etc. Unlike commodity CRM, CRMnext has been widely recognized as a proponent of strategy driven implementations.
Know more about Cloud CRM Software by visiting http://www.crmnext.com/.