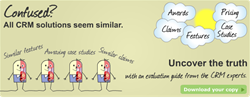 Advanced Widget Control Functionality on its Commutable Cloud CRM Platform
Delhi (PRWEB) December 23, 2013
CRMnext # 1 commutable cloud CRM software, releases advanced widget control functionality to provide a single screen for displaying information from multiple external systems on real-time basis. It can also be used to ensure that valid security answers residing in an external system, are provided by customers before allowing access to view or edit information related to existing records. It will also allow to create quick search functionality for any information and make it available on a desired page or layout in the system.
The smart widget control functionality will also enable teams to add qualification scores as per the organizations requirement with option to specify weightage. It will also enable users to select specific information from a record to be displayed as a part of another record on basis of pre-defined fields. For instance, it will empower teams to source data from multiple records like leads, accounts, contacts, opportunities, contracts, campaigns, cases, offers, issues and requirements.
On the occasion DR. Manoj Kumar, Product Architect, CRMnext said, "The smart widget control functionality will allow customer facing teams to search data from a third party system and validate it on the CRMnext software, which will reduce data leakage and protect corporate information."
About CRMnext:
CRMnext is a specialist Customer Relationship Management product company with focus on ultra-scalable installations. CRMnext team has proven track record of delivering High-Impact CRM solutions in their key practice vertical of Financial CRM, Banking CRM, Insurance CRM, Media CRM, Pharma CRM, Telecom CRM etc. Unlike commodity CRM, CRMnext has been widely recognized as a proponent of strategy driven implementations.
Know more about Cloud CRM Software by visiting to http://www.crmnext.com/