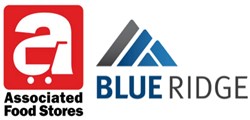 With Visibility Analytics we get immediate insights into opportunities to improve our efficiency and reduce costs.
Salt Lake City, Utah & Atlanta, Georgia (PRWEB) January 29, 2014
Blue Ridge, the leading Cloud-based demand forecasting, planning and replenishment provider, announced today Associated Food Stores has launched the company's Visibility Analytics solution. The grocery wholesaler was motivated to empower their planning and replenishment team to increase profit and margin by capturing and leveraging data across stores and suppliers.
Associated Food Stores saw substantial value in best-practice tools and reports that could instantly identify pockets of inventory and assess a course of action to reduce inventory without jeopardizing customer service. "With Visibility Analytics we get immediate insights into opportunities to improve our efficiency and reduce costs," stated Todd Bell, Director of Inventory Management at Associated Food Stores. "We anticipate that we can reduce our inventory significantly in the first two months, and continue to provide excellent service to our customers."
The active, expert oversight that Blue Ridge offers in conjunction with Visibility Analytics also influenced the grocery wholesaler to move forward. "What attracted us to Visibility Analytics was the 'Lifeline' approach that Blue Ridge takes. We aren't just analyzing data and creating reports, but developing strategies for rolling out the information, and executing on the project in an effective and timely manner," Bell went on to say. "Blue Ridge's proactive engagement makes them an extension of our company and the results have already been impressive."
Associated Food Stores is the Midwest's leading grocery wholesale distributor, headquartered in Salt Lake City, Utah. The company supplies nearly 500 independently owned supermarkets in a surrounding eight state region including Colorado, Nevada, and Oregon.
The Blue Ridge team is excited to bring Associated Food Stores into its customer community, and believes their team is primed to achieve impressive results. "It is always great to bring on a talented team such as the one at Associated Foods," stated Greg White, CEO at Blue Ridge. "They have an understanding and enthusiasm that their planning and replenishment directly impacts the company's bottom line. We have no doubt that using Visibility Analytics will empower the team to think financially and accelerate results even further."
About Blue Ridge
Blue Ridge Cloud supply chain planning and analytics solutions provide next-level visibility and precision in demand forecasting, planning and replenishment to retailers, distributors, and manufacturers. By optimizing product availability, inventory, and logistics costs, these companies increase cash flow by 50% or more and improve sales by double-digits, while stabilizing or even reducing inventory up to 30%. Blue Ridge demand-driven solutions can be implemented in as little as 90 days and scaled to the most complex supply chains. For more information, visit http://www.blueridgeinventory.com.
About AFS
Associated Food Stores is an independent retailer-owned warehouse based in Salt Lake City, Utah, which provides complete warehouse facilities and services to nearly 500 grocers throughout the Intermountain West. Associated can be found on the Internet at http://www.afstores.com.