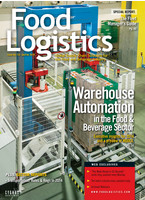 Our owners believe we should have any technology that helps us provide better service to our customers or that enables us to do our job faster and better.
Atlanta, Georgia & Cedar Falls, Iowa (PRWEB) March 19, 2014
In the recent article, "A Vision of 'Legendary Customer Service' Drives Martin Bros. to New Heights," Food Logistics highlights the food service distributor's success with Blue Ridge Cloud demand forecasting and replenishment solution. The publication detailed Martin Bros.' path from good to great, reaching 99.6 percent first-pass order fill-rates, while reducing overstock by 25 percent.
After implementing Blue Ridge demand forecasting and replenishment, Martin Bros. team leveraged the solution to reach rapid results. Within a few short months, performance was better than ever. Even as business grew at a rate of 10 percent per year, they were able to reduce overstock by 25 percent, while increasing service levels to a nearly perfect 99.6 percent. The company was also able to reduce lost sales by 40 percent and capitalize on time saved through more efficient replenishment buying.
Initially, Martin Bros. sought enhancements that could fit the company's aggressive growth plan and uphold their tradition of legendary service. "Martin Bros. is a progressive organization," stated Jennifer Meinders, Purchasing Director at Martin Bros. "Our owners believe we should have any technology that helps us provide better service to our customers or that enables us to do our job faster and better."
Martin Bros. is a highly respected full-line food distributor carrying 11,000 items with distribution centers in Cedar Falls, Iowa and Mason City. With roughly 500 employees, the company supplies Iowa and seven surrounding states.
The Blue Ridge team is impressed by the results attained by Martin Bros. and anticipates a continuation of supply chain excellence. "Jen and her team have taken already impressive results and improved them to a near perfect level," stated Greg White, CEO of Blue Ridge. "Martin Bros. is a light-house example of the kind of results that occur when you combine a talented and driven team with the right technology."
About Blue Ridge
Blue Ridge Cloud supply chain planning and analytics solutions provide next-level visibility and precision in demand forecasting, planning and replenishment to retailers, distributors, and manufacturers. By optimizing product availability, inventory, and logistics costs, these companies increase cash flow by 50% or more and improve sales by double-digits, while stabilizing or even reducing inventory up to 30%. Blue Ridge demand-driven solutions can be implemented in as little as 90 days and scaled to the most complex supply chains. For more information, visit http://www.blueridgeinventory.com.
About Martin Bros.
Martin Bros. Distributing is one of the leading independent food distributors in Iowa and the surrounding states. For over 70 years, we've been proud to be the family-owned foodservice solution to restaurants, healthcare facilities, schools and convenience stores throughout the Midwest.