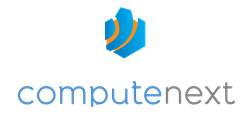 Bellevue, WA (PRWEB) September 10, 2013
ComputeNext, a Gartner Cool Vendor in Cloud Service Brokerage, is officially announcing a partnership with Rackscale, an IaaS cloud service provider based in the Central European country of Slovakia, simultaneously releasing a special offer on encrypted cloud storage.
With increased choice in IaaS, the ComputeNext cloud marketplace makes it possible to compare and test drive cloud services from a normalized inventory of IaaS in order to find the best cloud provider within a given geography, while factoring in price, uptime, and other cloud performance factors such as provisioning consistency, speed, and IaaS reliability and uptime.
Increasing the choice of cloud services available on the global cloud marketplace such as IaaS from Rackscale and on-demand software like encrypted cloud storage offerings from ownCloud; cloud consumers can now discover and use Rackscale IaaS through the ComputeNext cloud marketplace. This new European IaaS availability zone on ComputeNext is perfect for the IT professionals and infrastructure managers who are looking cloud servers and storage that:

Comply with data privacy laws for European cloud users and web application,
Want to better protect themselves against intrusion from program's like the NSA PRISM program in the United States,
Increase application performance by reducing latency or the effect of data gravity on web applications by accessing IaaS in in Slovakia – a country recently measured by Google as having the fastest internet speeds in the world.
Deploy affordable and AES encrypted enterprise cloud storage using ownCloud (Community Version)
Build multi-cloud applications leveraging ComputeNext's single point of access to the largest normalized selection of IaaS readily available for purchase, automated provisioning, deployment, and management.
With more than a million users worldwide, ownCloud offers the ease-of-use, flexibility, sophistication and security unmatched by basic consumer-grade syncing apps and third-party storage.
This feature release from ComputeNext, makes available compute and storage resources from Rackscale with a bonus discount rate being made available to users ready to launch services in the new European cloud location. IT professionals looking for servers and storage will now have access to IaaS centrally located in Europe at the data center in Bratislava, Slovakia.
Through partnership with ComputeNext, cloud consumers can access compute and storage from Rackscale's data center in Bratislava, Slovakia at a deep discount. The ComputeNext cloud service brokerage has secured special pricing which is available only through the ComputeNext portal until December 31st, 2013 – including:
25% off of any ownCloud Enterprise storage offerings
25% off any virtual servers
By using coupon code: "RKCN" users can credit $25 to their account to get started launching VMs. With a unified invoice and API abstraction layer, IT professionals can achieve faster go-to-market with a single API connector to platform-agnostic infrastructure as a service from cloud providers such as Rackscale who not only differentiate with unique locations and high performing infrastructure resources but also offer additional IaaS services such as ownCloud encrypted cloud storage.
Rackscale value preposition:

The most cost efficient IaaS offer
Reliability 99,99%
Geographic redundancy – data are replicated up to 2 different Data Centres Tier 3+
Security - wide range of security products: Anti-malware, Integrity Monitoring, Log Inspection, Firewall, Intrusion Detection & Prevention, Web Application Protection, Application Control and disk encryption.
Comprehensive 24/7/365 support as standard to all customers
Unlimited data transfer
#
About ComputeNext
ComputeNext – most recently named a Gartner Cool Vendor (2013) in Cloud Service Brokerage is a Bellevue, WA based cloud-technology company which is pioneering the way organizations search, discover, procure and provision cloud services. As a leader in building federated cloud ecosystems they enable end-to-end transactions across platform agnostic infrastructure. With the belief that a handful of IaaS providers cannot satisfy the world's computing demands, ComputeNext has built their marketplace to deliver a transparent and transactional user experience for the search, discovery, and provisioning of cloud services.
For more information please visit http://www.computenext.com
About Rackscale
Rackscale was established with the vision to become major cloud computing provider in EMEA region. Our customers benefit from 10GigE networking, SSD storage options and the ability to use highly tailored cloud infrastructure with full root/administrative access. The offered cloud infrastructure is located in Tier 3+ data centres, which are designed to host mission critical systems, with fully redundant systems, guarantees a reliability of 99.99%. Rackscale is "Trend Ready" Trend Micro security partner and offers wide range of cloud security products. Rackscale is also ownCloud Service Provider and is offering ownCloud in a self-service way to many end users and corporations.
For more information please visit http://www.rackscale.net.