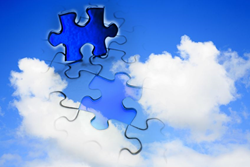 Failing to have key individuals who fully understand the ramifications and opportunities available from this disruptive technology will put organizations at a distinct disadvantage.
Saint Charles, IL (PRWEB) March 12, 2014
Data Center Enhancements Inc., in partnership with ITpreneurs, announces the availability of technical training courses focused on the Cloud Computing environment. Courses being offered range from a simple "Cloud Essentials" overview to highly technical courses covering Service Management, Security & Governance, and Cloud Architecture. For greater convenience, courseware is presented as e-learning (self-study), virtual instructor-led (via the Internet), blended (combined e-learning and Instructor-led virtual) and traditional Instructor-led classroom formats.
In a 2012 report, "The InfoPro Wave 5 Cloud Computing Study*", the estimated worldwide market for cloud computing will grow at 36% compound annual growth rate (CAGR) for the next four years, reaching a market size of $19.5B by 2016.
The increased complexity and sophistication of modern IT infrastructure demands a carefully planned and designed Cloud environment to ensure optimum efficiency, scalability, security, resiliency, and avoidance of obsolescence. According to H. Randy Cochran, President of Data Center Enhancements Inc., "The rapid adoption rate of Cloud Computing puts a strain on traditional IT training providers. Commercial vendors usually offer Cloud information that's only relevant to their own products. Traditional educational outlets can provide a more holistic picture of Cloud opportunities, but may lack the breadth and depth of field experience necessary to make the content relevant to their students."
Data Center Enhancements Inc. leverages the Internet to deliver e-Learning, Virtual, and Blended course formats to students in a location of their choosing, and at their convenience. For those needing a more structured learning environment, Instructor-led classes are offered in cities throughout the Midwest.
Some examples of the courses available in this training suite include:
CLD1907 - Cloud Essentials with Business Simulation Course™ (e-learning)
This is a 16-hour self-study e-learning experience that addresses the business and technical perspectives of cloud computing. It includes the Cloud Challenge Business Simulation program.
CLD1928 - Virtualization Essentials With Business Simulation(classroom)
This course is for IT Specialists wanting to better understand the business challenges of operating and governing a virtual environment. It also includes the Cloud Challenge Business Simulation.
CLD1967 - Cloud Service Manager
The Cloud Service Manager Course enables Senior (ITIL) Service Managers to deliver cloud services. It provides a practical, hands-on approach to understanding how Cloud impacts operational processes.
CLD1970 - CCC Cloud Solutions Architect
The Cloud Solutions Architect Course is available for IT professionals involved with Cloud strategy, planning, and design solutions. It helps companies leverage the opportunities Cloud Services provide.
CLD1972 - CCC Cloud Security and Governance + Exam + Certificates (Virtual)
The Cloud Security and Governance training course is for senior IT professionals who develop policies and strategies to ensure Cloud computing security and compliance.
Cloud computing offers an entirely new paradigm that promises to elevate businesses and Government Agencies to the next level of Information technology efficiency and flexibility. Mr. Cochran further stated that, "Failing to have key individuals who fully understand the ramifications and opportunities available from this disruptive technology will put organizations at a distinct disadvantage".
In conjunction with its new Cloud Computing course offerings, Data Center Enhancements Inc. is an advance IT consulting company that can assist companies in making a seamless, transparent transition from their current legacy computing environment into the Cloud.
Data Center Enhancements Inc. was founded in 2003 as a professional IT technical consulting and training services firm. The company provides vendor-neutral assistance in the development and implementation of complex systems and infrastructure. They can perform in-depth IT analysis, strategic planning, architectural design, implementation assistance and project management for enterprise-scale projects. Mr. Cochran is an owner and Principal Consultant for the company. For more information, please visit http://www.dc-ei.com/, or contact us at 1-630-513-9747.
ITpreneurs offers innovative competence development programs for IT best practices to support the educational needs of IT professionals. With expertise in key categories including IT Service Management, Governance and Strategy, Process Improvement, Project and Program Management and Emerging Technologies, ITpreneurs provides guidance on global frameworks and integrated solutions. Learn more about us at http://www.itpreneurs.com and follow on Twitter at http://twitter.com/itpreneurs.