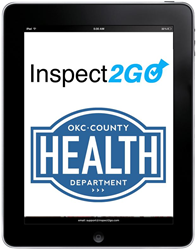 at the forefront of technology and efficiency
Oklahoma City, OK (PRWEB) June 14, 2016
Inspect2GO, a leader in mobile inspection and cloud database solutions for government agencies, today announced its first delivery to The Oklahoma City/County Health Department. Seventeen programs have been delivered for evaluation and feedback including Complaints, Food, Hotels and Childcare. The next phase involves delivery of the offline mobile software, scheduler and reporting system.
"The visionary staff in Oklahoma City/County's Environmental Health Department is at the forefront of technology and efficiency," said Paul Smith, President of Inspect2GO. "The work done here will benefit the entire industry"
"Our health inspectors are field testing the software at this time," said Troy Skow, Administrator for the OKC-County Health Department. "The Inspect2GO team has taken the time to thoroughly understand our needs and is configuring the software exactly as we'd like"
About Inspect2GO
Inspect2GO, Inc., (http://inspect2go.com/ehs/environmental-health-management-software) offers state-of-the-art inspection management and permitting software that combines mobile, cloud and database technology. Inspections are conducted on a native mobile app that's easy to use and functions anywhere, offline, without the need for data connectivity. Inspection data is stored in the cloud, or on the customer's server. The cloud-based inspection management software enables scheduling, ad-hoc reporting, data analytics, complaint management, mapping, accounting/invoicing, permitting/licensing and other management functions. The subscription based software is sold as a SAAS (software as a service) product.