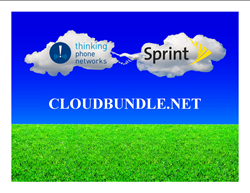 I am incredibly pleased that Thinking Phones has been selected as the sole UCaaS provider to round out CloudBundle.net's compelling offer," said D.J. Kreft, Thinking Phone Networks' VP of Partner Sales.
Farmington Hills, Michigan (PRWEB) September 15, 2014
Cloudbundle.net has launched and is proud to announce a powerhouse partnership with Sprint & Thinking Phone Networks. Cloudbundle.net will help deliver UCaaS (Unified Communication as a Service) to business customers for first-class security and access to their network, company data, and servers via Sprint's award winning MPLS network. What does this mean for customers and agents? It means game-changing cloud sales opportunities and solutions.
The vision is simple: Whether a customer or sales partner agent, Cloudbundle.net is a single point of contact solution. This collaborative effort will allow customers and agents to take advantage of a revolutionary new cloud-based program in the telecom world. The reality is, cloud solutions are the future of business continuity, and Cloudbundle.net is the one stop shop for all cloud based communication needs. Cloudbundle.net was developed with a vision to provide simplicity & stability…......and now that vision has become a reality.
Cloudbundle.net is not just a place for customers; sales agent partners are also welcome to learn more about this great program. IT network consultants are ready to analyze and determine a cloud-based, UCaaS solution that is right for your customers. Cloudbundle.net specializes in working with all types of vertical markets to find the right fit for their environment. Interested sales partners can quickly grow a "cloud sales opportunity" funnel with Cloudbundle.net.

Cloudbundle.net is offering sales partnership opportunities - Join the Team Now!
The Cloudbundle.net team is looking for experienced agent partners to help educate the business world about this great new service. If you are interested in joining an award winning, global cloud solution provider, contact our consultants today by phone at (866) 476-4867 or email us at solutions(at)cloudbundle(dot)net.