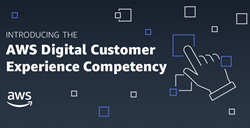 "CloudHesive is proud to achieve AWS Digital Customer Experience Competency status," said Jim Walker, CEO. "Our team is dedicated to helping companies achieve their technology goals by leveraging the agility, breadth of services, and pace of innovation that AWS provides."
FORT LAUDERDALE, Fla. (PRWEB) March 07, 2019
CloudHesive, an Amazon Web Services (AWS) Partner Network (APN) Advanced Consulting Partner based in Fort Lauderdale, FL, US, announced today that it has achieved AWS Digital Customer Experience Competency status. This designation recognizes that CloudHesive provides Consulting and Next Generation Managed Services to help Digital Customer Experience customers by providing end-to-end solutions for all phases of the digital customer acquisition and retention life cycle including: content management and marketing automation to engage prospects and customers with the right experience, effective and secure commerce solutions to create seamless buying experiences, and data analytics solutions to support decisions and retain customers.
Achieving the AWS Digital Customer Experience Competency differentiates CloudHesive as an APN member that provides specialized demonstrated technical proficiency and proven customer success with specific focus on workloads based on Digital Commerce. To receive the designation, APN Partners must possess deep AWS expertise and deliver solutions seamlessly on AWS.
"CloudHesive is proud to achieve AWS Digital Customer Experience Competency status," said Jim Walker, CEO. "Our team is dedicated to helping companies achieve their technology goals by leveraging the agility, breadth of services, and pace of innovation that AWS provides."
AWS is enabling scalable, flexible, and cost-effective solutions from startups to global enterprises. To support the seamless integration and deployment of these solutions, AWS established the AWS Competency Program to help customers identify Consulting and Technology APN Partners with deep industry experience and expertise.
CloudHesive's Next Generation Managed Services for eCommerce, powered by AWS, allows your retail organization launch a new eCommerce offering or expand a current one – including the migration of your existing platform from your current provider to AWS.
To do so, we combine four areas of practice we have proven experience in Managed Services, Security, DevOps as a Service and Contact Center/Business Process Outsourcing. Additionally, our other areas of practice (Microsoft Workloads, End User Computing) allow for a holistic view into your Retail operations allowing for end-to-end optimization of your business processes.
About CloudHesive - CloudHesive was founded by cloud executives and provides cloud solutions through consulting and managed services with a focus on security, reliability, availability and scalability. CloudHesive services help companies reduce their operating costs and increase productivity while improving their cloud security posture by deploying their mission critical workloads onto AWS. CloudHesive partners with the leading cloud providers and security companies to build highly secured, scalable and robust cloud solutions. They architect and manage environments to meet stringent uptime SLAs. CloudHesive also offers proprietary tools such as Centricity to help their customers consume cloud services. For more information about CloudHesive, please visit http://www.CloudHesive.com.