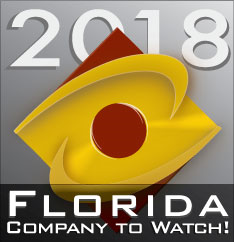 We've had tremendous growth over the past few years with landing several large enterprise customers, moving our public sector offering across multiple states, and opening an office in Argentina." stated Jim Walker, CEO of CloudHesive.
MIAMI and FORT LAUDERDALE, Fla. (PRWEB) September 21, 2018
CloudHesive, an Amazon Web Services Advanced Consulting and Managed Services Partner is excited to announce it has been selected as one of the 2018 Florida Companies to Watch. Presented by GrowFL, Florida Companies to Watch is an awards program like no other. This unique recognition highlights companies that demonstrate high performance in the marketplace with innovative strategies and processes, making CloudHesive a "watch worthy" company.
"These stand-out companies are all led by entrepreneurs, and have demonstrated their capacity and intent to grow," said Dr. Tom O'Neal, GrowFL executive director. "They also all have critical intellectual property or a niche position that gives them a competitive edge in their markets," he said.
CloudHesive's core services include assisting customers in building their cloud strategy, developing governance processes, implementing DevOps automation and code pipelines, automating security controls, and managing their customer environments. CloudHesive also has enterprise in Cloud-based Call Centers and the setup, tuning, and maintenance of video streaming platforms. In today's fast-paced business environments, technology companies such as CloudHesive play an important role in helping companies leverage innovative technologies without straining their budgets, over taxing their internal resources or losing focus on their essential business.
"We've had tremendous growth over the past few years with landing several large enterprise customers, moving our public sector offering across multiple states, and opening an office in Argentina. These were all big accomplishments for CloudHesive, and we are currently planning the build out of a much larger corporate office for 2019 that will be located in downtown Fort Lauderdale. This will enable us to double our engineering workforce, build out our customer success team, and host AWS education events" stated Jim Walker, CEO and Managing Partner of CloudHesive.
By partnering with some of the most notable cloud infrastructure companies, CloudHesive wraps traditional cloud offerings (public, private or hybrid) with cloud-centric security controls, such as data at rest encryption, Docker container encryption, endpoint security, intrusion detection, log management, vulnerability management, DevOps as a Service and continuous monitoring throughout the environment lifecycle. CloudHesive is one of the few vendors that works directly with Amazon Managed Services and has even built their own product called Centricity that leverages AWS services including Amazon Elemental, Liquidware and workspaces, and Connect. Each year CloudHesive has retained their Managed Service Partner competency and recently added AWS Microsoft Workloads Competency to their portfolio of accomplishments.
Jim Walker, CEO of CoudHesive mentions, "It is our goal to focus on being the all-in partner for our customers and provide the best end to end services. In the current era of cloud computing, maintaining internal equipment and datacenters increases costs as well as decreases a company's ability to be nimble and pivot with customer's changing demands. CloudHesive's services allow our customers to instantly gain the agility, flexibility and scalability they need to compete."
About CloudHesive:
CloudHesive is an Amazon Web Services (AWS) Advanced Consulting Partner and Managed Services Partner headquartered in Miami / Fort Lauderdale, Florida. They are a cloud solutions consulting, DevOps, managed security, and cloud managed services provider with a focus on security, reliability, availability, and scalability. CloudHesive services help companies reduce their operating costs and increase productivity while improving their cloud security posture by migrating and securing mission-critical workloads on to Amazon Web Service (AWS) and other cloud partners. CloudHesive partners with the leading cloud providers and security companies to build highly secured, scalable and robust cloud solutions. They architect and manage environments to meet stringent uptime SLAs of up to 99.99%. CloudHesive also offers proprietary tools such as Centricity to help their customers decrease and manage their cloud costs. For more information about CloudHesive, please visit http://www.CloudHesive.com.