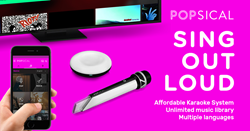 Our vision is a Karaoke System in any home. This would be impossible if the device costs a few thousand dollars - Faruq Marican, Popsical Co-Founder and CEO
Singapore (PRWEB) December 05, 2016
Popsical has officially announced the price of the Popsical Cloud Karaoke System. At an astounding list price of US$147, Popsical Cloud Karaoke System is priced for mass market adoption.
"Our vision is a Karaoke System in any home. This would be impossible if the device costs a few thousand dollars," said Popsical's CEO Faruq Marican. "We intend to build an ecosystem of Singers and Streamers. However, we would never reach our goal if Karaoke Systems remain as novelty items that are priced beyond the reach of the everyday consumer."
Thoughtfully designed hardware and software allows Karaoke users plug-n-play convenience with POPSICAL's 2-part system. Plug into any sound system and TV for a fluid Karaoke-on-demand experience. It is lightweight, stylish, and fits right into any environment. The POPSICAL App allows users to queue the playlist right from their smartphones.
All you need is an internet connection to browse through an ever-growing music library of songs in multiple languages. The library stays constantly updated so you can sing to the latest hits. Ready to start showing off your talent to the world? Plug in the POPSICAL Cam for the ultimate POPSICAL Live experience and stream your performance on Facebook Live.
"It is not just about building a great technical product but about building a great user experience," said Faruq Marican, Chief Executive Officer. "The Popsical communicates wirelessly with mobile devices via WiFi, and this allows you to control it via your mobile phone or tablet - this makes using your Popsical simple and intuitive. We built our product along the design principles of Apple, only what is absolutely necessary is there; there are no unnecessary buttons nor wires. We want Popsical to be the world's easiest to use Karaoke System!"
Popsical will be opening their Popsical Karaoke Set for crowdfunding pre-orders in the coming weeks.
Interested parties may subscribe to their newsletter on the Popsical Karaoke website to be informed of the pre-order launch date.
Support Popsical's mission to Make Karaoke Great Again on Thunderclap campaign to stand a chance to win a Popsical Karaoke set.