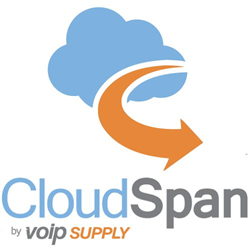 "Love is free. So is your service if we let you down." - Ben Sayers, VoIP Supply CEO
Buffalo, NY (PRWEB) October 15, 2014
VoIP Supply, North America's leading provider of VoIP solutions since 2002, is announcing today the launch of CloudSpan SIP Trunking and CloudSpan Hosted PBX services.
CloudSpan by VoIP Supply is the company's first ever VoIP service product of its own to be offered to customers.
With over 12 years experience helping small businesses, government agencies, and educational institutions with their VoIP hardware and IP networking device needs, VoIP Supply now provides a complete Unified Communication (UC) solution with these new CloudSpan cloud services.
For customers that manage their own VoIP system, CloudSpan SIP Trunking offers business class SIP trunks with standard features such as unlimited inbound calling, e911 Emergency Service, caller ID with location, HD voice, and fraud protection.
CloudSpan SIP Trunking service does not require a contract and there are no setup fees and no termination fees.
For businesses that don't want to worry about managing a communications platform, CloudSpan Hosted IP PBX professionally maintains the entire phone system in the cloud, removing the customer's burden of purchasing and maintaining IP PBX hardware and software.
CloudSpan Hosted PBX has the flexibility to scale up or down as calling needs change with features geared towards today's mobile workforce including unlimited extensions, cloud extensions, find-me / follow-me call routing, e911 Emergency Service, call recording, voicemail to email, remote and mobile access, and 24/7 system monitoring and management.
For businesses that still need to send and receive faxes, CloudSpan Hosted Fax simplifies this paper-based technology into a digital, cloud-based solution by allowing users to send an receive faxes via email, web broswer, or smartphone app. The only difference to analog faxing is that dedicated phone lines for faxing and the fax machine itself can be eliminated, providing a cost savings.
CloudSpan cloud communication services are future-proof with continual updates and the ability to adapt to any growing business. Features are easy to use and can be accessed through any modern web browser or mobile device.
"CloudSpan's brand promise is that we will be second to none when it comes to your satisfaction," said Ben Sayers, CEO of VoIP Supply. "And if we can't live up to that, I'll refund your last payment and help you migrate to a new VoIP service provider."
"Love is free. So is your service if we let you down," said Sayers.
For more information about CloudSpan VoIP service options, speak to a live representative by calling 800-305-1427, or visit http://www.voipsupply.com/cloudspan.
About VoIP Supply
We solve problems and create solutions with VoIP. VoIP Supply is a world class place to work with big goals, a clear vision, defined purpose and a dedicated team of passionate business professionals. We love what we do and do it better than any of our competition.
Since 2002, VoIP Supply has been the leading supplier of VoIP equipment and complete VoIP solutions in North America. We are known in the industry as responsive and knowledgeable VoIP product experts.
With everything you need for VoIP, VoIP Supply has grown rapidly throughout the years. VoIP Supply is a three-time Inc. 500/5000 honoree, listed by Business First as one of WNY's Most Admired Companies, as well as one of Western New York's Best Places to Work for many consecutive years, including 2013. VoIP Supply is also the first Certified B Corporation in Western New York.