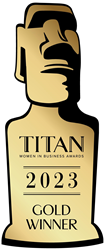 "In an extraordinary display of talent and leadership, these three remarkable women at Cloudticity have shattered glass ceilings and redefined what it means to excel in the tech industry."
SEATTLE (PRWEB) May 18, 2023
The International Awards Associate (IAA) and the TITAN Women In Business Awards has made a resounding impact on the global business landscape as they wrap up the first season for 2023. This esteemed competition has captured the attention of the international community with over hundreds of exceptional entries from more than 25 countries worldwide, including the United States, Australia, the United Kingdom, Portugal, Canada, China, and many others.
After reviewing numerous entries, the competition's judges deemed Cloudticity's entries to be deserving of three Gold TITAN awards. The winning works were created by Nicole Chaika (Finance), Kate Turchin Wang (Marketing), and Krista McRae (Human Resources).
"In an extraordinary display of talent and leadership, these three remarkable women at Cloudticity have shattered glass ceilings and redefined what it means to excel in the tech industry. Their collective triumph in winning the 2023 TITAN Women In Business Gold Awards simultaneously is truly a testament to their unwavering dedication, brilliance, and relentless pursuit of excellence. Their incredible achievements inspire us to break barriers, embrace diversity, and foster an environment where every voice can soar to new heights. Congratulations to these trailblazing women, whose accomplishments illuminate the path for future generations of female leaders in the business world."
– Gerry Miller, Founder & CEO of Cloudticity
The TITAN Women In Business Awards honors and celebrates all who are making a significant impact in various industries and professions, while recognizing the outstanding achievements of women, from accomplished executives to rising entrepreneurs, who demonstrate exceptional innovation, excellence, and leadership in their respective fields.
"IAA takes great pride in providing a platform for outstanding entrepreneurs and businesses to showcase their exceptional work and be recognized for their excellence in the industry," said Thomas Brandt, spokesperson of IAA. "We extend our heartfelt congratulations to the winners and commend them for demonstrating the highest standards of business excellence even when in the presence of our respected jurors."
Grand Jury Panel
In recognition of the importance of impartiality and diverse perspectives in the evaluation process, the competition prioritizes excellence and has assembled a distinguished jury panel of accomplished professionals. These jurors hail from esteemed organizations, including Krithika Chandramouli (Meta), Pranjali Ganoo (Google), Deepa Venkatrao (IQVIA), Niculut Violeta (Anchor Grup), Sherilyn Kamga (Talend), and several other outstanding individuals.
By bringing together such a distinguished panel of experts, the competition ensures that only the most deserving submissions are recognized for their excellence, under the implementations of blind judging.
Cloudticity's winning entry/entries for 2023 TITAN Women In Business Awards can be viewed here.
"These TITANs today have shown that their success stories are a testament to the power of perseverance and the drive to achieve excellence," noted Thomas. "Their contributions have been invaluable in propelling their respective organizations forward and serving as a driving force in their industries, inspiring others to follow in their footsteps."
About TITAN Women In Business Awards
The TITAN Women In Business Awards program honors exceptional females who have made remarkable strides in the ever-evolving business landscape, making a substantial impact with their unwavering commitment and exceptional contributions. The program serves as a beacon of inspiration, recognizing and celebrating their monumental impacts on the business world.
Website: TITAN Women In Business Awards
Facebook: TITAN Awards
Twitter: TITAN Awards