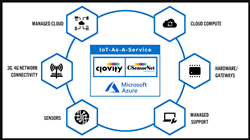 "Now a Platform Service Provider, we bring to market a solve for a persistent problem that has existed in the IoT industry between hardware, cloud, network and software providers for some time now."
SAN FRANCISCO (PRWEB) December 17, 2019
Cities and enterprises across the United States, as well as all over the world are turning to IoT technology to increase their ability to manage a growing population or workforce, accommodate new economic disruptors, and monitor critical infrastructure. CSensorNet IoT platform creator and IoT end-to-end professional services firm, Clovity, has released its newest iteration of its highly capable platform rigorously tested on Microsoft Azure cloud to better support the growing and diverse ecosystem of use cases that the Smart City and Enterprise industrial verticals demand.
To accompany this important upgraded release of CSensorNet, Clovity jointly announces the launch of their new IoT-as-a-Service model with a single monthly pricing for complete end-to-end IoT solutions. This model brings about all the complex components of an IoT solution and places them in a Services Model that is highly competitive in pricing and saves on operational costs in the long term enabling easy forecasting for enterprises on their IoT solution rollouts.
By having all aspects of an IoT solution under one umbrella, including full support, Clovity create a bundled service for one monthly cost that is easily managed as well as keeping client focus on sales and relationships vs management of an IoT solution. The monthly price includes network connectivity on 3G, 4G and soon 5G, a managed private cloud for each customer, implementation of Clovity's IoT software called CSensorNet, procurement of IoT sensors and devices, and tech support for all components. All of this will be provided for a single monthly price per device that is less than a subscription to a personal streaming service.
Clovity partners with Microsoft Azure cloud and our industry leading OEM providers like Advantech, to roll out a slate of edge hardware/software industrial bundles. All bundles include Clovity's robust CSensorNet IoT accelerator platform and edge agent pre-configured on the device. These ready-made solutions for industrial, energy and Smart Cities ensures quicker and more seamless deployment of IoT systems. By further reducing complexity and thus lowering the barrier to entry for IoT, Clovity and its hardware partners take aim at providing all of their client's needs in a complete package.
CSensorNet platform wave 2 release includes several major refinements and upgrades to Device Management, Sandboxing, and Workflow management modules. Machine Learning algorithms, major updates to Reporting, and Edge Device Management modules have also been finalized enabling stakeholder notification, critical event updates and rule based actions distributed as well as orchestrated in real-time. One of the most important features recently put into production is our Edge Device Management module that provides seamless Push & Pull workflows to edge devices enabling automatic provisioning of intelligent edge devices out in the field remotely.
CSensorNet caters to the deployment and stacking of Smart City and Industrial solutions like Critical Asset Tracking/Monitoring, Fleet Management (Health & Live), Smart Environment, Smart Traffic, Smart Lighting, Smart Public Safety, Smart Parking, Smart Emergency Response, Smart Agriculture, Smart Disaster Management, Smart Transportation, Smart Energy, Smart Governance, Smart Education, Smart Water/Resource Management, Smart Weather and a myriad of others being created daily.
"We have come a long way from starting out as a professional services provider and managed team provider. Now a Platform Service Provider, we bring to market a solve for a persistent problem that has existed in the IoT industry between hardware, cloud, network and software providers for some time now. We act as a Managed Service and as the Solution provider all under one umbrella, with a single monthly pricing for everything. Our clients see this as a disruptor to the industry and as an immediate game changer for streamlining their IoT initiatives" says Chris Medina, Chief Strategy Officer at Clovity.
Clovity knows the benefits of this solution will be realized in the ability to stay relevant with the latest technologies. The single monthly price includes all upgrades and maintenance as well as providing the services that normally companies would need to hire to manage such systems, network services and contracts, cloud services and management, hardware shipping, invoicing and activation etc. "We take care of it all," said Chief Executive Officer at Anuj Sachdeva. "There's no reason why under a SaaS model that an IoT end to end initiative can't be both a managed service and product development all under one roof. We already house the several complex and hard to find resource types that engineer and develop edge and AI connected software. It just made sense to combine our platform with our partnerships and offer them for a low monthly price."
Clovity's new release of CSensorNet platform powered by Microsoft's Azure Cloud, pre-configuration on several industry-leading edge devices, and now offered in an IoT-as-a-Service model provides unique benefits stemming from a well-defined as well as collaborative end-to-end IoT ecosystem. Customers will quickly find tremendous value with the ease and speed systems can be put into place and begin providing valuable data back to the organization.
For more information about Clovity partnership ecosystem and how CSensorNet can accelerate your cities IoT solutions, please reach out to us as sales@Clovity.com.
About Clovity
Clovity is a privately held professional services and IoT Platform company based in the heart of Silicon Valley, California. We work to develop smart products, connected solutions and operate as a Service. Clovity is rapidly growing by partnering with many global hardware, software and sensor manufacturers to fully integrate our software into their products and/or software.
Clovity specializes in 4 practice areas - IoT, Cloud, Data and Digital powered by our platform CSensorNet and it brings together "connected things" and data computing closer to the edge, enabling interactions with connected devices to happen much faster. Clovity's IoT software is geared for the Industrial, Transportation, Retail, Smart Cities, Telecom, Agriculture, Financial Services as well as Healthcare verticals. We have pre-packaged HW/SW bundles for vertical industry focused use cases such as Smart E-Houses, Smart Industrial, Smart Building, Smart Asset etc. which combines our software platform and leading HW providers OOB.
We were named 2018 and 2019 Top Growth IoT Provider in the US by CIO Review magazine as well as 2020 IoT Breakthrough Award for Emerging Company of the Year for the Enterprise Market. Clovity's platform and global partnerships enable millions of interactions with thousands of connected devices daily, while serving up massive amounts of actionable data in milliseconds for numerous types of vertical use cases.
Clovity is a fully staffed software and services organization, with operations in major US cities and abroad in New Delhi India where our Deliver Center is located. We are also Diversified and Inclusive certified, an approved Government Services Provider, and are a Minority owned Business.
Follow us at:
LinkedIn: https://www.linkedin.com/company/clovity/
Twitter: https://twitter.com/ClovityInc