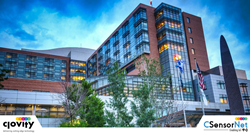 "Collaborating with our partners and providing solutions that will solidify their organizational IT roadmap for the future, while also creating significant value to our clients, are Clovity's main drivers and key to our success."
SAN FRANCISCO (PRWEB) March 08, 2022
With an already extensive focus on Healthcare providers, payers, and technology providers throughout the US, Bay Area-based Clovity closes 2021 with major wins like the University of Utah as well as two other major healthcare providers in the state of Michigan. Clovity has also sought to further expand its footprint in the largest payer entity in Michigan with almost 100% year over year growth in terms of Revenue. With Clovity's multi-faceted capabilities in IT services, staffing, and IoT software product, it is particularly positioned to assist with many of the varying needs that these massive health-focused companies and organizations require.
From the staffing of several teams of IT architects, cloud architects and engineers, and developers to the migration and implementation of entirely new ITSM and project management systems, Clovity has been busy making its mark on the mid-west healthcare sector a notable one. As many of the clients are just recently engaged and with a few major wins already within a short time, Clovity's leadership has lofty goals for this fiscal year in this sector.
The push in this space is being led by one of Clovity's Directors of Client Management, Eric Stoller. The Michigan native has been leading up IT projects and sourcing for these major entities with massive initial success and much further growth opportunities. With Clovity's agility in engagement models and ability to do both onshore and offshore development, it is extremely easy to meet the clients where they need support. Our partnerships with Atlassian and Microsoft as solution providers have been leveraged and will be continued to be used to support these major organizations in their technological roadmap.
Eric Stoller, Director of Client Management for Clovity comments, "The recent growth in the Midwest Healthcare market for Clovity has been tremendous to be a part of and, with so many hurdles faced over the last couple years, quite the accomplishment of the collective team. He adds, "Collaborating with our partners and providing solutions that will solidify their organizational IT roadmap for the future, while also creating significant value to our clients, are Clovity's main driver and key to our success."
For more information or interest in engaging with Clovity on an upcoming project, please reach out to Sales@Clovity.com. We look forward to hearing from you.
More About Clovity
Clovity is a San Francisco based IoT-as-a-Service platform provider powered by CSensorNet and Digital Transformation professional and managed services provider in IoT Digital, Cloud and Data who has earned the trust of top Fortune 500 Companies. Clovity has 3 levels of engagement models.
Level One is Talent Partner Hiring (TPH) and IT Staffing engagement model that helps companies procure these hard to find skill sets and allows them to be used as they are needed. This is called our Clovity Flex-Model. Level Two engagement focuses on providing managed team or projects (MTP) for niche skill-sets deployed for a fixed period or fixed scope and it is based on milestone based delivery coupled with our best practices. It is basically Clovity's Professional Services divisions covering stand-alone, nearshore, and offshore managed team & projects. Level 3 is the engaging Clovity and utilizing our proprietary IoT platform – CSensorNet to provide IoT-as-a-Service model. Overall, we focus on IoT, Digital, Data, Cloud, Enterprise Apps Integration & Agile practice areas.
Our proprietary platform CSensorNet connects companies to their assets and the world of 'things' around them. We have engineered our solution to provide edge computing, artificial intelligence, cloud agnostic and network, coupled with powerful data analytics and data visualization. Our deployments provide IoT capabilities in days, not months, Clovity simplifies the deployment, management & operations of IoT solutions. We operate in several models of IoT deployment, most relevant is IoT-as-a-Service. By providing all hardware, software, and professional support all for a single monthly price. Our 'service' includes data analytics, 24x7 tech support, hardware replenishment or replacement, on-line customer portal and a team of engineers to ensure the solutions are future proof.
Clovity's strategy is focused on high growth in the mid-market enterprises, providing pre-integrated solutions with a seamless orchestration from device-to-cloud-to-business. Our success is founded on industry thought leadership and technology innovation that is IoT, Cloud, Consumerization and Big Data focused, for several verticals including: Industrial, Agriculture, Telecom, Banking & Finance, Healthcare and Retail industries. Clovity has developed real world use cases and 'disruptive solutions' for these and many other industry domains with fully referenceable customer base.
Whether on the forefront of working with our clients on 5G products for the next generation of Smart Cities or Smart Infrastructure, Smart Sustainable Buildings, Connected Healthcare, and Connected Spaces or developing new solutions for global Asset Tracking and Asset Management, our services can scale to meet any demand and in any vertical.
We are a supplier to the Federal Government, numerous Public sector organizations and Fortune to high growth technology companies. We are minority owned business enterprise and Diversified & Inclusive certified. Clovity was selected in the top quarter of all companies award on the 2021 Inc. 5000 list, 2020 "Emerging Company of the Year for the Enterprise Market" and again in 2021 as "Global IoT Innovation Vendor of the Year" by IoT Vendor Breakthrough Awards and in the "Top 50 IoT Enterprise growth companies" for 2018 & 2019 by CIO Review Magazine.
Follow us at:
LinkedIn: https://www.linkedin.com/company/clovity/
Twitter: https://twitter.com/ClovityInc