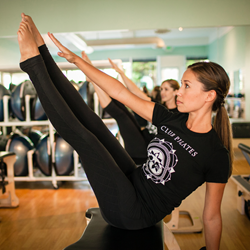 Club Pilates was different because it offered affordable classes with a warm and welcoming environment
Los Angeles, CA (PRWEB) February 24, 2015
First time franchisee, Nikkita Weerasinghe, has worked in Club Pilates locations for years in San Diego and is ecstatic to bring it to her home town in Los Angeles with plans to open two more in the next coming years. 
After attending nursing school and becoming a Registered Nurse, Nikkita came across Pilates while looking for a way to find balance in her hectic life. She found it to be a therapeutic and safe exercise and later enrolled in the Teacher Training Program that was offered by Club Pilates. "Club Pilates was different because it offered affordable classes with a warm and welcoming environment" tells Weerasinghe. 
Weerasinghe plans to offer a class that no other location has ever offered. She calls it, The Karma Class. Every Sunday, she plans to teach a class that does not require a monetary payment, but instead asks for a donation in the form of a canned food item. She feels that the new class will promote the positive and giving environment that she would like to cultivate within her studio. "I was drawn to Club Pilates' positive atmosphere and sense of community, it inspired me" Weerasinghe recalls, and this class will be a new addition to further reinforce that positive community. 
All Club Pilates studios are equipped with Pilates reformers for all classes. Each location provides a variety of classes that range from beginner classes to fast-paced and challenging cardio classes.
Since it's inception in 2007, the Pilates franchise has rapidly expanded throughout the city of San Diego, where it originated, and has opened new locations up the coast of California, as well as many other states including Colorado, Wisconsin, Michigan, and Arizona. The opening of the Club Pilates Woodland Hills location marks the 32nd location for the brand.