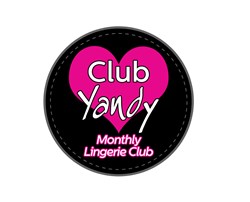 Phoenix, AZ (PRWEB) February 06, 2014
Yandy.com, online lingerie and costume retailer, debuts the companies latest brainchild, Club Yandy, a monthly subscription lingerie club available to customers for $13.95 a month.
In order to provide customers with a true VIP experience, Yandy.com has launched Club Yandy, a monthly lingerie club with additional VIP benefits for only $13.95 a month. With their subscription, members receive a lingerie item, valued between $20 and $40, every month, free shipping on all orders, complimentary returns, a VIP customer service phone number and personal shopper.
Some additional important facts for Club Yandy are as follows:

Customers can choose the billing date that works best for them and the lingerie item included in the membership is sent out on the date selected, monthly.
Customers can review the lingerie item included in the subscription before the item is shipped.
If a lingerie item does not fit the item may be returned, free of charge.
There is no commitment length for Club Yandy and customers have the ability to cancel at any time between billing cycles.
Currently, Club Yandy is only available for customers within the continental United States.
In addition to the VIP service provided through Club Yandy, Yandy.com continues to offer customer a wide variety of standard and plus size items, with more than 7,000 products in stock and ready to ship daily, complimentary flat rate shipping on all orders over $70 and a panty with every order. To learn more about Club Yandy visit http://www.yandy.com/clubyandy.
About Yandy.com
E-commerce is on the rise and Yandy.com is one of the largest online retailers of Valentine's day lingerie, sexy Halloween costumes, swimwear and clothing on the web. Founded in 2005, Yandy boasts more than 7,000 products always in stock at affordable prices. Yandy ensures that every costumer will receive a safe, secure and private online shopping experience and is backed by COMODO online security and Google Checkout. Yandy is dedicated to customer service and only sells what is in stock which allows for quick, same day shipping. Offering the highest quality products at the most affordable prices in the market, Yandy has become a leader in ecommerce. Yandy works closely with all of the manufacturers they distribute for and hand select all of the items on the Web site to ensure customers have the largest and most diverse collection to choose from. In addition, the customer service team at Yandy is unrivaled. With attentive and helpful operators, should a question or problem arise, the customer service team at Yandy is always willing and able to assist. At Yandy, every customer can Be Sexy.
###