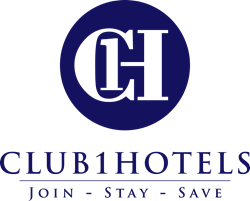 "Club 1 Hotels is excited to offer members the opportunity to earn miles with their reservations. Our mission is to completely satisfy our members and we continuously strive to add new membership benefits," said Calin Paunescu, Managing Director of Club 1
Chicago, IL (PRWEB) June 27, 2017
Club 1 Hotels, global hotel club offering exclusive, members-only wholesale rates up to 70% off at over 750,000 3, 4 and 5-star hotels and resorts in 5,971 destinations in 162 countries, is enhancing their membership experience by offering 1-Year Packaged Airline Memberships earning miles with several international airline partners.
The Club 1 Hotels Packaged Airline Memberships, starting from $49.95 per year, allow new members to choose from an extensive list of airline partners where they earn up to 13,000 bonus miles upon sign-up as well as 2 miles for every $1 USD spent on reservations.
Members can choose Packaged Airline Memberships from Club 1 Hotels' international airline partners including: United Airlines, Alaska Airlines, JetPrivilege, Philippine Airlines, Etihad, Virgin Atlantic, Hong Kong Express, AirAsia, Air Arabia, Oman Air, Ethiopian Airlines, Royal Brunei Airlines and Philippine Airlines.
As a welcome gift to the global hotel club, all new Packaged Airline Memberships receive a $25 booking credit towards their first hotel reservation. Additional Packaged Airline Membership options also include a one-year membership to ShopRunner, $30 Luggage Free gift card and one-year access to global airport clubs and VIP lounges. Entire package up to a retail value of $1,279.
"Club 1 Hotels is excited to offer members the opportunity to earn miles with their reservations. Our mission is to completely satisfy our members and we continuously strive to add new membership benefits," said Calin Paunescu, Managing Director of Club 1 Hotels.
Club 1 Hotels' membership benefits include an unparalleled Best Rate Guarantee. Members have the security of knowing they are getting the best rates available as Club 1 Hotels offers to beat competitors' rates by $25 USD per night should members find the same refundable hotel room at a cheaper rate on another site.
For more information about Club 1 Hotels, membership or membership upgrades, please visit their website at http://www.club1hotels.com or contact Club 1 Hotels Member Services at memberservices(at)club1hotels.com.
Club 1 Hotels provides members with privileged access to an artistic collection of global 3, 4 and 5-star hotels and resorts at exclusive rates up to 70% off. This members-only global hotel club is built on the foundation of knowledge and passion for travel and exceptional personalized service. Members can expect impeccable hospitality with the goal of creating lasting and cherished relationships. For more information about Club 1 Hotels or membership packages, please visit their website at http://www.club1hotels.com.