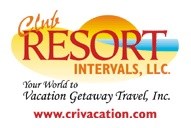 Manchester, New Hampshire (PRWEB) January 31, 2014
Club Resort Intervals strives to provide outstanding customer service in order to assess member complaints and concerns no matter what the issue may be. In the last quarter of 2013, a new customer service initiative was developed as a part of this luxury vacation provider's continued commitment to offering the best customer service in the industry. Based on customer reviews and service reports, the initiative is designed to ensure that every member and potential member receives award-winning service.
Club Resort Intervals was extremely excited to implement this new initiative, and notes that it has helped this forward-thinking vacation provider to grow in order to provide even better service. Members are already taking notice and so far the consensus is very favorable.
Club Resort Intervals continues to see a decline in member's complaints. It is this luxury vacation provider's philosophy to treat its members like family. CRI takes a personal perspective on service and provides personalized attention to each member. This initiative seems to be working, since the company has quickly risen in the ranks of popular vacation clubs.
This new customer service initiative makes getting through to a service representative easier and faster than ever before, which allows problems to be solved even more efficiently. Club Resort Intervals knows that when issues arise, members do not want to wait for resolutions. The initiative gives representatives more decision making power that will allow for quicker problem solving.
Since the implementation took place, Club Resort Intervals has been tracking the rate of complaints as well as the types of complaints and is happy that customer satisfaction is at an all-time high.
Club Resort Intervals invites travelers to experience the high level of customer service as well as the outstanding vacation deals that CRI provides. For more information about this luxury vacation provider that continuously strives to improve its already top-notch services, visit http://www.crivacation.com.
*******
Press release distributed by JW Maxx Solutions, a leader in online reputation management and a part of a family of companies that includes Prensa Ahora and Enterate Ahora.