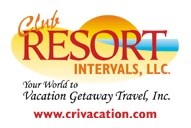 Manchester, NH (PRWEB) February 14, 2014
Club Resort Intervals is dedicated to providing its members with the best possible customer service. That's how CRI became the leading luxury vacation provider in the United States, and that's how it plans to develop its brand. Providing more than just memorable vacations for its members, Club Resort Intervals has developed a new website to investigate complaints about its vacation experiences and promotional presentations.
Club Resort Intervals' latest initiative to investigate customer dissatisfaction is a new website that will provide a direct line of communication between members and customer care professionals, ensuring the most positive, long-lasting memories for the member's next, or current, vacation. With the implementation of this new website, members no longer have to lodge their complaints through third-party sources where they'll be forgotten and buried. Instead, members can deal with real people using Club Resort Intervals' customer care specialists where complaints can be heard, logged and immediately dealt with.
The website is designed with an additional emphasis on clearing up any miscommunications about resort vacation properties and the full-service travel agency that is available to members. Oftentimes, misunderstandings can arise from prospective members before or after attending a CRI presentation. Without understanding the massive benefits of joining Club Resort Intervals, these prospective members might be misinformed about what it means to be a part of a luxury vacation club. But now, even prospective members have the opportunity to reach out to Club Resort Intervals to better solve customer complaints and understand how to get the best deals on luxury vacation properties and vacations around the world.
With exotic locations from tropical isles to snow-dappled mountain ranges, Club Resort Intervals provides the most affordable vacation properties and trips so that its members can have experiences that they will cherish for a lifetime. Thousands of members experience the rewards of membership with Club Resort Intervals every year, making it the largest clearinghouse of vacation properties in the United States.
Press release distributed by JW Maxx Solutions, a leader in online reputation management and part of a family of companies that includes Prensa Ahora and Enterate Ahora.