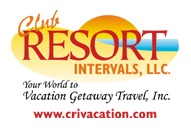 Manchester, New Hampshire (PRWEB) March 27, 2014
Traveling can be frustrating sometimes. There can be long lines at the airport, delays, heavy traffic, bad weather and even forgotten items. Club Resort Intervals Complaints Prevention Team knows that a well-prepared traveler is more likely to enjoy a stress-free vacation than those who are not.
When planning a trip, it is important to do a little research first. Whether camping, staying in a resort or a condo, knowing a few key factors ahead of time can make all of the difference between a getaway that is riddled with complaints, and one that is not.
WEATHER -- Packing for a sunny trip only to find nothing but cold rain can really make a trip miserable. Club Resort Intervals suggests checking a forecast in advance to help towards packing accordingly and avoiding weather-related complaints. Even then, weather can change and forecasts can be wrong. Therefore, bringing a good set of cold weather clothes and shoes may come in handy. If hoping for a cold ski trip, dressing in layers is a good idea in case things warm up.
FLIGHT MISHAPS -- This winter has seen many flight delays and even some unexpected landings due to weather and unruly passengers. Most airports and airlines have up-to-date information on their websites allowing passengers to check their flight schedules for changes. If for some reason a flight is delayed, having games and snacks packed will help make the time pass more quickly.
TRAFFIC HEADACHES -- Sitting in traffic is certainly not the ideal way to spend a vacation. Sometimes, this is unavoidable, especially if there's an accident. Club Resort Intervals Complaints Prevention Team encourages travelers to check road conditions in advance. Many State Department of Transportation websites will warn of any construction, closures and delays and will suggest alternate routes. It's a good idea to have plenty of water, road games and snacks, just in case a lengthy delay does happen. Also, being aware of typical high traffic times. Planning to avoid those times may make the trip more enjoyable.
Most importantly, when planning ahead for a trip, is to do so with plenty of time to make small adjustments to plans if necessary. Club Resort Intervals reports that one of the most common complaints comes down to waiting until the last minute to pack or prepare. This often leads to frustration and forgetting important items which can set the tone for the whole trip. For more information on how to avoid common travel complaints or to book a luxurious vacation, contact Club Resort Intervals today.
http://www.crivacation.com/
603-669-1555
********
Press release distributed by Reputation Maxx, a leader in online reputation management and part of a family of companies that includes Prensa Ahora and Enterate Ahora.