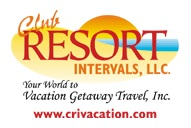 Manchester, New Hampshire (PRWEB) April 14, 2014
Club Resort Intervals is known throughout the vacation fulfillment industry for being a leader in procuring incredible vacation deals for its members. Club Resort Intervals has always been involved in the growth of the industry as a whole, and is excited to announce that it will be traveling to Destin, Florida, for the 58th Semi-Annual C.A.R.E. Conference.
Held at the Sandestin® Golf and Beach Resort in stunning Destin, Florida from May 3-6, the 58th Semi-Annual Conference carries on C.A.R.E.'s long-standing and time-honored tradition of creating an avenue for members to network in a way that is unmatched anywhere else in the industry.
C.A.R.E. provides the attendees to its conferences with the tools they need to stay on the cutting edge of the industry in all aspects of vacation ownership and vacation fulfillment. This year's conference takes place on a sprawling, 2,400-acre resort that has been providing luxurious accommodations to guests since 1973.
Club Resort Intervals is looking forward to the networking opportunities that the conference affords, connecting with others in the industry. Club Resort Intervals strives to provide its members with the best travel opportunities to the most sought-after destinations around the globe, and knows that C.A.R.E. is the perfect opportunity to procure more options for its members.
The conference this May will include a keynote session by Shutopa Das of Welk Resorts, on the topic of "Inclusive Culture & Generational Differences – Creating a Harmonious Workplace." Panel discussion will focus on the "Next Generation Customer Experience."
One of the highlights of the event will be the Cinco de CRI Celebration, which will take place on May 5. The party is in recognition of Club Resort Intervals' fifth year as a dedicated and proud member of C.A.R.E. The Cinco de CRI Celebration will feature food, fun, dancing and more.
Club Resort Intervals is excited to be involved in this premier event. For more information about this leading event or about all of the incredible vacation opportunities available through this leader in vacation fulfillment, visit http://www.crivacation.com.
Press release distributed by Reputation Maxx, a leader in online reputation management and part of a family of companies that includes Prensa Ahora and Enterate Ahora.