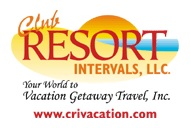 Manchester, New Hampshire (PRWEB) May 26, 2014
Always striving to improve its already stellar travel services, the Club Resort Intervals Complaints Reduction Team tracks customer satisfaction closely. Using feedback from their members, the company provides training to correct issues and make each person's vacation memorable for all of the right reasons.
Already a leader in member satisfaction, Club Resort Intervals knows that there is always room for improvement; however, seeing such a dramatic a decrease in complaints over the last five months is really exciting to see. The company attributes its success to listening to what its members have to say and being attentive to their needs.
Having its own department of highly trained customer service representatives and using these incredible employees as tools to make its members' experiences better goes to show that this luxury vacation provider is very serious about its continued success. No matter what members have to say, the Club Resort Intervals Complaints Reduction Team is there to assist travelers and make sure that they have the best vacation experience possible. The team knows that vacations should be fun and carefree. The memories created while traveling should be of laughter, seeing new things, making new friends and having the best time ever. The team does everything in its power to ensure that each member's needs are met.
Each quarter, the company has noticed that member satisfaction surveys have come back more positive than the previous quarter's surveys. Having customer service representatives that take the time to problem solve and ensure that a member's concern has been handled correctly and efficiently is one reason this luxury vacation provider's ratings have been on the rise. The Club Resort Intervals Complaints Reduction Team and all other departments of the company believe that its members' happiness is of the utmost importance.
Throughout the rest of 2014, the company foresees even better satisfaction marks. As more and more people find vacation clubs to be affordable and a great alternative to traditional vacation stays, more people will be inclined to join this top-rated vacation provider. Members report that having the options of home cooked meals and in-house family entertainment, while enjoying outstanding value, is a major reason for choosing Club Resort Intervals. The level of customer service is the reason they keep coming back. For more information, visit http://www.crivacation.com.
******
Club Resort Intervals
(800) 274-3979
service(at)crivacation(dot)com