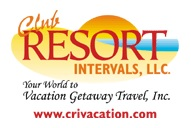 Manchester, New Hampshire (PRWEB) June 23, 2014
The year of 2014 is halfway over, and already, this year has been the safest for traveling families in years. According to Club Resort Intervals, complaints seen across the Internet by travelers about travel scams are less of a threat now that travelers are familiar with the red flags to watch out for. Tricks and schemes that once fooled thousands of travelers every year are today seeing success numbers flounder. Traveler security is of the utmost concern for Club Resort Intervals, and so this luxury vacation provider cautions travelers to always be on the lookout for some of the following suspicious activity.
Club Resort Intervals reveals that complaints seen by non-members largely highlighted the travel fear of being the victim of theft. Even in a digital age, physical theft is just as much as a threat as it ever was. Luckily, there are a number of measures that travelers can adhere to that will reduce their chances of being targeted by pickpockets or thieves. One of the best ways to avoid being the victim of a pickpocket is for the traveler to avoid looking like they have anything to steal to begin with. Wearing flashy jewelry or expensive-looking accessories is a great way for a pickpocket to take notice. Wallets and handbags should be kept in front of a traveler at all times. Bags held firmly in front, and wallets kept in front pockets, are less likely to be targeted by a pickpocket.
Many of the other travel complaints seen when Club Resort Intervals took a look at complaints from non-members had to do with airports. Airports are notoriously busy, crowded places. Many travelers get stuck waiting in long lines, standing amongst strangers waiting for baggage check or to just grab a bite to eat before catching a flight. While it is very easy for travelers to be distracted at airports, whether by their own vacation plans or by other travelers around them, they should always keep their belongings in-hand at all times. Thieves can disappear into a crowd faster than a traveler may notice one of their bags is missing.
Club Resort Intervals wishes all of its members a safe and enjoyable 2014 vacation experience, and by following the aforementioned defense measures, travelers are doing their part to ensure a successful trip. For more information, visit http://www.crivacation.com/
******
Club Resort Intervals
(800) 274-3979
service(at)crivacation(dot)com