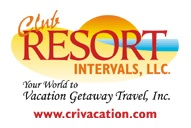 Manchester, NH (PRWEB) October 20, 2014
Family vacations are a great tradition that many families partake in multiple times throughout the year. Whether driving a few cities over or flying across the country, one thing remains the same: traveling with kids can add additional planning and may be stressful if it isn't handled correctly. Club Resort Intervals is stepping in to help these parents with their fall vacations, ensuring that the trip is just as enjoyable for them as it is for the kids.
To begin with, parents should purchase a package of large zip-loc bags before they begin packing for their vacation. While packing children's clothes for the trip, sort them into day-by-day outfits, and store each outfit in a zip-loc bag. This way, parents will not have to scramble through luggage looking for a miscellaneous clothing item, and will know without a doubt that they did not forget to pack someone's socks or underwear. At the end of the day, simply take the empty zip-loc bag and store the dirty laundry within it.
Another tip for parents that Club Resort Intervals has is to take a small rectangular Tupperware container, sandwich-sized works well, and fill it with first-aid items like bandages, anti-septic wipes, children's Tylenol, throat lozenges, or whatever else parents envision they may need. Such supplies can come in handy if children injure themselves while playing around.
During long car rides, children are notorious for becoming bored and agitated with one another. Here is a simple solution for parents facing long car rides: pack activity bags filled with books, snacks, and toys that have been saved just for the trip. Take kids to a dollar store and let them pick out a bunch of things they want, and then store these items in bags. As each day of car riding begins, take out a new bag. This will not only keep kids busy but also quiet, allowing parents the ability to relax and focus on getting to the destination safely.
When parents keep these tips in mind while traveling, it will help them and their families better enjoy the trip. For more information on amazing travel this fall visit https://www.crivacation.com/.
Club Resort Intervals
(800) 274-3979
service(at)crivacation(dot)com